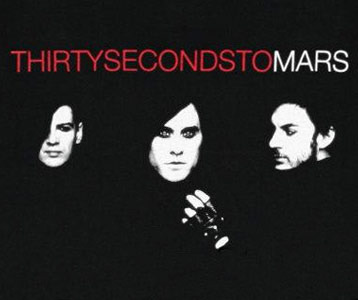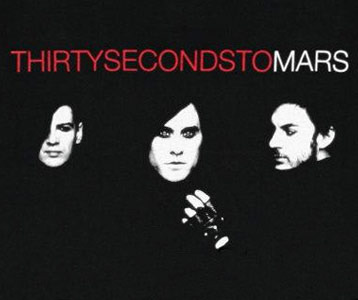 One of my favorite shows of all time is My So-Called Life.  While it only aired one season, it has a lasting effect in my memory mainly because of Angela's infatuation with a certain guy named Jordan Catalano (Jared Leto).  So, what did this actor do after the cancellation?  He continued on with acting and started a band a few years later called 30 Seconds to Mars.  If you liked him as Jordan or love his band, snag this 30 Seconds to Mars t-shirt featuring Jared and his band mates, including his brother Shannon Leto.
The band 30 Seconds to Mars was created in 1998.  Jared Leto has been singing and playing rhythm guitar for the band since the beginning, while his brother Shannon (who also had a small part in the show) plays the drums.  Lead guitar and keyboard has changed a few times (Kevin Drake, Solon Bixler, Matt Wachter), with Tomo Milicevic currently in the coveted role.  To date, the band has released three albums, which include their self titled debut, sophomore album A Beautiful Lie and their most recent effort This Is War.  Listen to all of their hits in this 30 Seconds to Mars tee.  Memorable tracks include the recent radio hit "Kings and Queens," which is still making the rounds.
If this band has a place in your heart, then make some space in your closet for this tee.  This 30 Seconds to Mars t-shirt features the band members we know and love…not to mention who are easy on the eyes.
Sold by: Amazon Category: Music