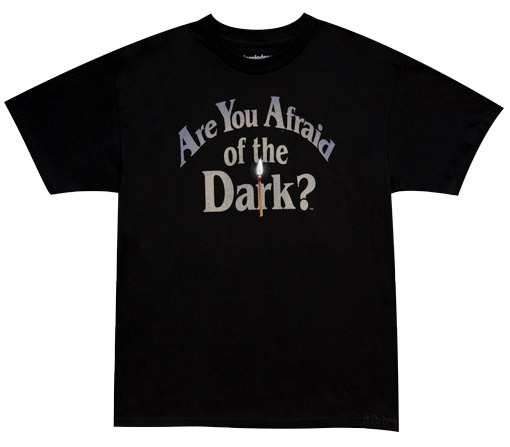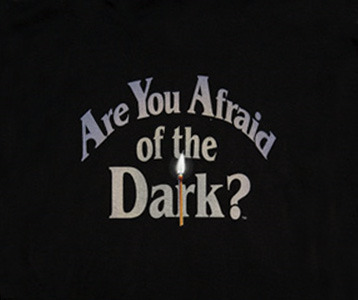 Submitted for the approval of the Midnight Society, I call this story the Tale of the Killer Shirt!  This Are You Afraid of the Dark t-shirt is great for everyone who remembers the tales told by the members of The Midnight Society while sitting beside a roaring campfire deep in the woods.  This tee can also be pulled up over your head if you become too frightened while watching the episodes on DVD.
On Saturday nights in the early to mid nineties, I used to roll out my turquoise blue sleeping bag in the living room and camp out to watch SNICK (Saturday Night Nickelodeon), which consisted of four TV shows that ran from 8 to 10 p.m.  The TV show Are You Afraid of the Dark was always on the latest because it was the scariest, and I absolutely loved it!  I was recently reminded of the show because of a friend's Facebook post.  It said "I'm….cold.  I'm….cold," and I immediately knew what she was referring to.  It was one of my favorite Are You Afraid of the Dark episodes called "The Tale of the Frozen Ghost", which Melissa Joan Hart (Clarissa, from Clarissa Explains It All, another SNICK show) guest starred in.
If you remember wishing you were one of the group that included Gary, Betty Ann, Tucker, Kiki, Frank, Kristen and Sam, then grab your Are You Afraid of the Dark t-shirt now.  Can you hear the intro playing in your head with the squeaky swing and creaking door?  This tee will help to conjure up memories of your favorite episodes.
Sold by: eBay Category: TV