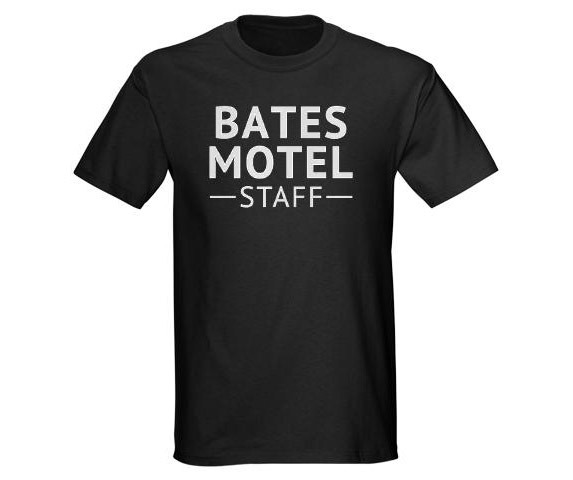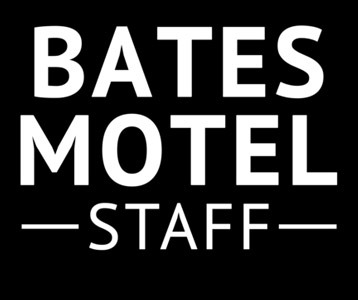 There is nothing like a spooky Bates Motel Psycho t-shirt to protect you from a knife wielding, dress wearing bad guy.  Like they say, if you can't beat them, join them.   Be a staff member with this tee that could also double as an original Halloween costume!  Just remember to clean the shower after the guests "depart".
The movie Psycho is one of director Alfred Hitchcock's most well known films.  Represented by the t-shirt shown here, the film first hit the big screen in 1960 and starred Janet Leigh as Marion Crane, a secretary who stole from her employer and fled the scene.  She stopped at the Bates Motel owned by Norman Bates, played by actor Anthony Perkins.  Her ominous fate caught up with her at night while she was taking a shower.  Fans of the film know what happened next in this classic slasher movie, but I'll stop there so as not to ruin any surprises for potential newbies.
In 1998, Gus Van Sant directed a remake of the Hitchcock masterpiece, which starred Vince Vaughn as Norman and Anne Heche as Marion.  However, like most moviegoers, I prefer the original black and white version to the remake.  The shower scene seems scarier because more is left to the viewer's imagination.  Another thing that's hard to argue is the appeal of the Psycho Bates Motel shirt featured here.  Its costume style design lets everyone know that you are employed by Norman, or as most people know him, the creepy momma's boy with the big kitchen knife.
Artist: Wayward Tees Categories: Costume Ts, Movies