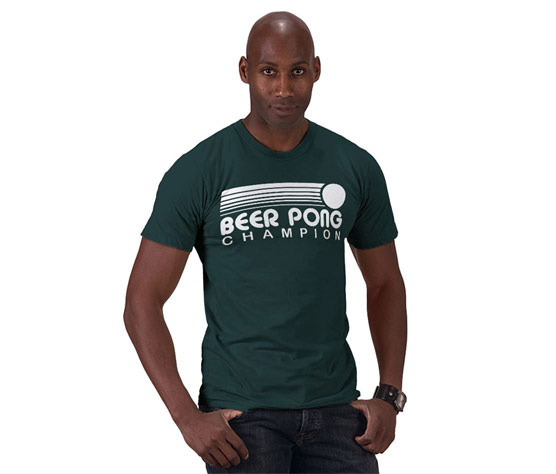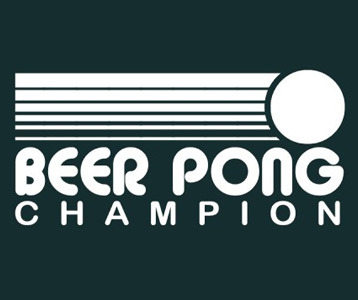 Do you ever wish you were still in college?  I do.  It was a much easier time in life.  Parents give you money, you can sleep odd hours, and there are parties every night.  This Beer Pong t-shirt is sure to get some fond memories flowing like the alcohol of your past (or present).  If you were the champ or still are, then let people know with this beer pong champion tee.  It can even be used as a cool prize for winners of your tournament.
Beer pong is a drinking game that is popular on college campuses.  It is also played at house parties and tailgating events.  The table is set up with cups of beer arranged into triangles at either end.  Two teams alternate throwing a ping pong ball across the table at the cups.  If the ball lands in a cup, the opposing team must drink the cup.  The game continues until one team has no cups left to drink.  The team with cups still remaining wins and they plan a new challenging team.  It sounds easy but ping pong balls bounce and each table has its own variation of the rules called house rules.  Some typical differences include how full a cup needs to be, how many cups left are needed for a re-rack, whether you can block a shot and whether bouncing a shot is allowed.
If this rings a bell and makes you salivate for a beer, then snag this beer pong champion t-shirt.  People don't need to know if you were just the champ of one game or if you could hustle people playing every night of the week.  Wear this tee to let them know that you are the champion and there is no one with better aim.
Sold by: Zazzle Artist: Magarmor Category: Gamer