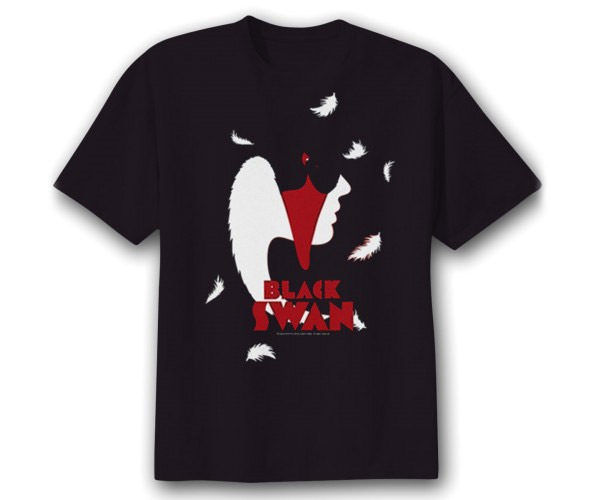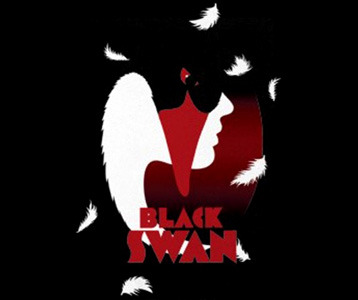 Tchaikovsky's ballet Swan Lake has been brought back to life with the assistance of beautiful actresses Natalie Portman and Mila Kunis, as well as a few amazing ballerina body doubles.  If you appreciate the piece as a whole and haven't gotten lost in the controversies that surrounded the movie's release, then let this Black Swan t-shirt sweep you off your feet like the dancing in the film did.
The movie Black Swan is about two young ballerinas, Nina and Lily, who want the lead role in their company's production of Swan Lake.  The single role encompasses two characters, the black swan and the white swan.  Nina, represented here on this Natalie Portman t-shirt, is a perfectionist who is considered technically superior to her fellow ballerinas and is perfect for white.  On the other hand, what her rival Lily (Mila Kunis) lacks in skill, she makes up for in passion, which is perfect for black. Nina receives the role but is not fully grasping the black side and it is not going unnoticed.  Soon, she is battling her own imagination, paranoia and her understudy Lily, who is only too willing to step up and take over the spotlight.  Capture the chaos that she endures in the movie with this feathers Black Swan shirt that features an eye-catching silhouette of Natalie Portman's character Nina.  After combating her inner demons, she goes on to give the performance of a lifetime.
For Natalie this proved to be a movie role she will never forget, as it won her the Academy Award for Best Actress and led her to her future fiancé as well as her child.  Grab your Natalie Portman Black Swan t-shirt to commemorate this talented young actress who is bound to surprise us again in the future.
Category: Movies