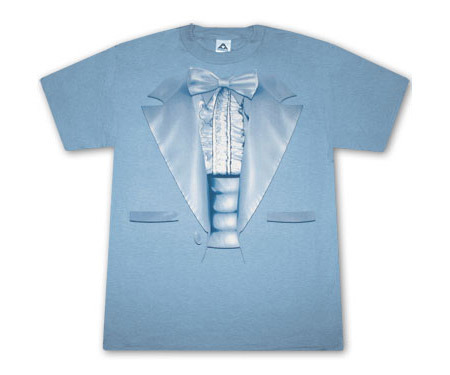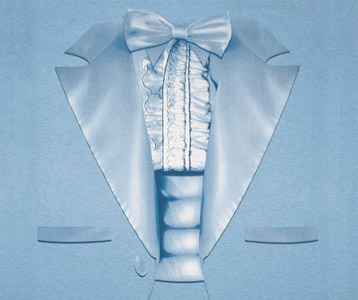 Some people like to crash parties, others just don't like to dress up, some just want to be the center of attention and others are just quirky.  If any of these are you, then this ruffled powder blue tuxedo t-shirt is probably your perfect match.  The tee could also easily be used as a Halloween costume to mimic Harry from the movie Dumb and Dumber.  Life is short, so have fun with it!
Dumb and Dumber is truly one of the stupidest funny movies of all time.  Jim Carrey and Jeff Daniels put on amazing performances as Lloyd Christmas and Harry Dunne, respectively.  The two simple minded men travel across the country to Aspen to return a supposedly forgotten piece of luggage to its owner.  Along the way, they discover the bag is filled with cash, so they spend it on anything and everything while keeping track of it through IOU's.
When they eventually make it to their final destination, they discover that the money in the lost luggage was originally intended to pay a ransom.  Not to worry though because although their good deed took a sour note, it all pans out.  This includes attending a lavish party in their ruffled tuxedos.  Neither of them gets the girl, but despite the disagreements and gross tricks they play on each other, the two men remain the closest of friends.
Get this Dumb and Dumber blue tuxedo t-shirt and take your best friend out on the town.  Hopefully, they will find the humor in the situation like Lloyd and Harry would.
Sold by: TVStoreOnline Categories: Costume Ts, Movies