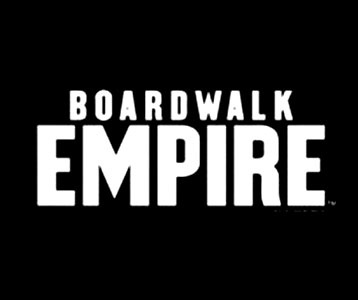 The HBO TV show Boardwalk Empire is inspired by Nelson Johnson's nonfiction book Boardwalk Empire: The Birth, High Times and Corruption of Atlantic City.  With Martin Scorsese executive producing and directing the first episode, the series garnered HBO's highest ratings for a premiere since 2004's Deadwood, and it was renewed by HBO for a second season just two days after it debuted.  Directors of subsequent episodes have tried to preserve the tone and style created by Scorsese, who has himself expressed interest in directing more Boardwalk Empire episodes.  If you are becoming engrossed in this Prohibition era tale of crime and corruption, then get this Boardwalk Empire t-shirt to inform everyone of your new favorite TV show.
Taking place in the early 1920s when the sale of alcohol became illegal in the United States, the Boardwalk Empire TV show, represented by this tee, tells the story of Enoch "Nucky" Thompson (Steve Buscemi), Atlantic City's town Treasurer, political fixer and backroom dealer.  The series starts off with Nucky Thompson's former protégé, Jimmy Darmody (Michael Pitt), returning from the Great War eager to reclaim his place in Nucky's circle.  When things don't move quickly enough, Jimmy takes matters into his own hands and inadvertently draws the attention of the Feds, led by Agent Van Alden (Michael Shannon).  It doesn't help that Nucky also does business with other well-known players in the world of organized crime, including Arnold Rothsten (Michael Stuhlbarg), Big Jim Colosimo (Frank Crudele), Lucky Luciano (Vincent Piazza) and Al Capone (Stephen Graham).
Add in a few more gangsters, Nucky Thompson's mentor The Commodore (Dabney Coleman), a showgirl named Gillian (Gretchen Mol) and Margaret Schroeder (Kelly Macdonald), the woman in an abusive marriage who Nucky tries to help, and the plotlines for the TV show begin to emerge.  Get this HBO Boardwalk Empire t-shirt and imagine yourself immersed in the seedy underbelly of The World's Playground.
Browse More Boardwalk Empire tees at ChasingtheFrog
Artist: HBO Category: TV