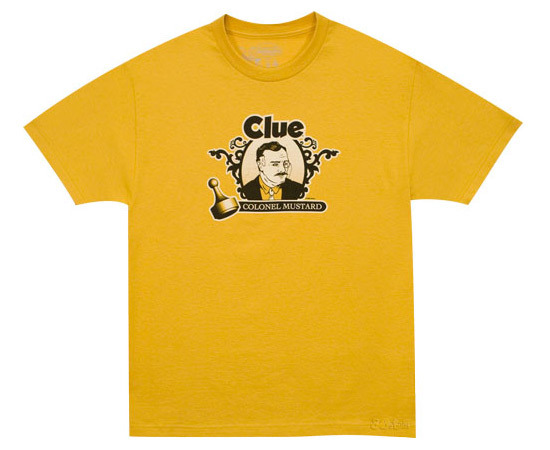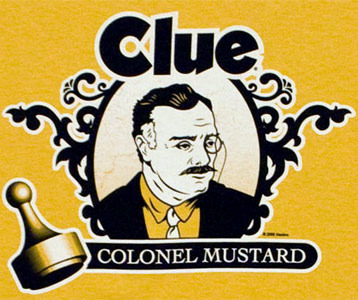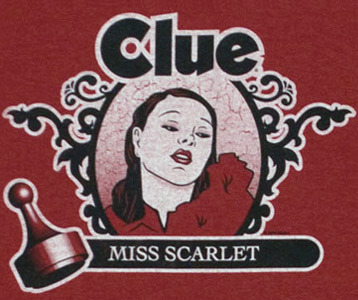 This Clue t-shirt probably reminds you of the famous who-done-it murder mystery game, but what most of you don't know is that there is also a Clue movie (1985) and children's book series.  Whether you like the game, movie, books, or all three, this Colonel Mustard Clue tee will bring back memories for you and your friends.
The Hasbro board game Clue is the American version of the British game Cluedo.  The goal is to figure out who, where, and how a man named Mr. Boddy was killed.  Players navigate their characters through the mansion by rolling dice.  They enter different rooms to collect clues in the hope of being the first one to solve the mystery.  Currently, a player can be one of the six characters reflected on these tees.  They include Professor Plum, Mr. Green, Mrs. Peacock, Miss Scarlet, Colonel Mustard and Mrs. White, who are all possible murderers.  These suspects have access to six weapons, including a knife, rope, candlestick, revolver, lead pipe and wrench that could have been used to commit the murder.  In addition to pinpointing the murderer and weapon of choice, you need to determine where the crime took place.  The mansion has nine rooms, which includes a ballroom, kitchen, conservatory, billiard room, library, dining room, lounge, hall and study that are possible crime scenes.
Who killed Mr. Boddy?  It is a good question but there are 324 different possibilities, so we don't recommend guessing.  Maybe this Clue t-shirt will help to stimulate your mind…It was Colonel Mustard, with the candlestick, in the conservatory!