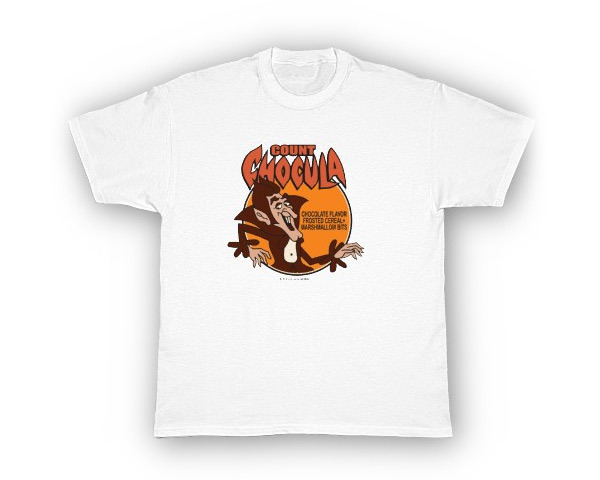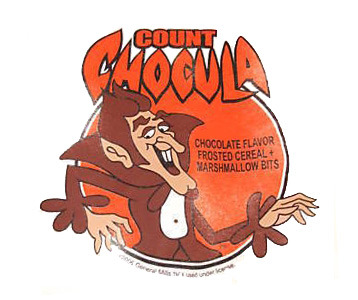 Kids' cereals are the best!  Not only are they loaded with sugar, but the boxes are covered with crazy cartoon characters and they have fun prizes hidden inside.  This General Mills Count Chocula t-shirt highlights one of the best sweet treats ever.  If you loved this cereal growing up, then we are sure you will love this Count Chocula tee too.
In 1971, General Mills found a winning combination by pairing their sugary delights with spooky creatures.  Count Chocula and Franken Berry (strawberry flavored) debuted that year and soon after, Boo Berry (blueberry flavored) rounded out the tremendous trio.  A few others, including Fruit Brute (fruit flavored with lime marshmallows) and Fruity Yummy Mummy (fruit flavored with vanilla marshmallows) were tested but consumers didn't "eat them up", so they were discontinued a few years later.  All of these cereals have become a part of pop culture, appearing in a variety of movies and TV shows.
While it is difficult to pick a favorite creepy character, this General Mills Count Chocula t-shirt features one of the best.  After all, can you really go wrong with chocolate and marshmallows?  We didn't think so either.  Besides, you can always change your mind according to your mood.  Which ghoul is your favorite?
"I want to eat your cereal!" Count Chocula memorably declares during the cereal's TV commercials.
Sold by: eBay Category: Food