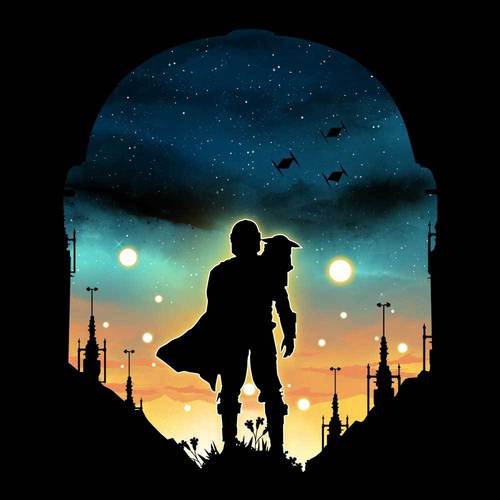 Djarin Sunset
Designed by Various Artists and discovered at Once Upon a Tee.
SAVE 5% BY USING
COUPON CODE: FEISTEES
Once Upon a Tee Review | Vitals:
Updates:
Every Sunday at 9pm EST
Company Location:
Phoenix, Arizona
Genres:
Movies, Geek, TV, Games
Prints On:
Gildan (100% Pre-Shrunk Cotton)
Printing Method:
Screen
Pays Artists:
$1 Per Sale
Founded:
2013
Price at Launch:
$12
Current Price:
$13
Once Upon a Tee Site Review | Summary:
The basic idea behind Once Upon a Tee is to offer a collection of similarly themed t-shirts for a limited time (currently a week). It's not a new idea, with other sites already offering a varying number of shirts at once that follow a similar theme. The week of this Once Upon a Tee review they were offering a collection of Joss Whedon themed shirts that included
Firefly
,
Captain Hammer
and
Buffy
designs. The previous week's shirts focused on
The Legend of Zelda
and were still available at a slightly elevated price. Once Upon a Tee boasts a creative name with a simple, effective design. They've made significant improvements to their site since launching, most noticeably in relation to site speed (it now runs seamlessly). In addition, they've simplified their "Rewards" system, offering users 5% cash back on every purchase in the form of "Rupee Rewards." Once Upon a Tee also currently offers rupees for referring a friend and for signing up for their newsletter.
Having watched Once Upon a Tee evolve since their launch in 2013, it has become very clear that they are dedicated to becoming a flourishing limited edition t-shirt site. I like the idea of offering either single shirts or entire collections at a slightly discounted price. After all, there are times when you just can't get enough of your favorite movie, TV show, video game, etc, especially when the designs are that good.