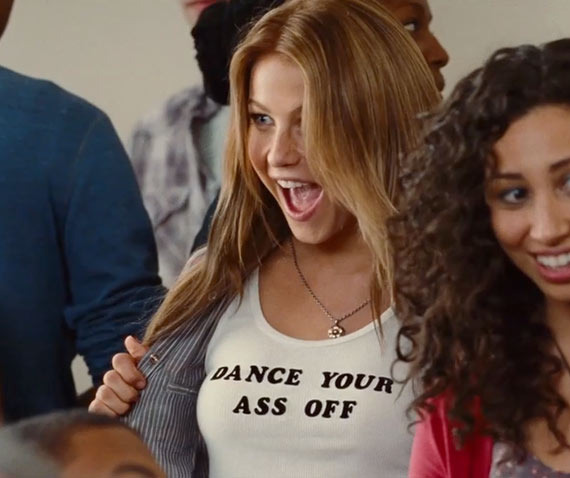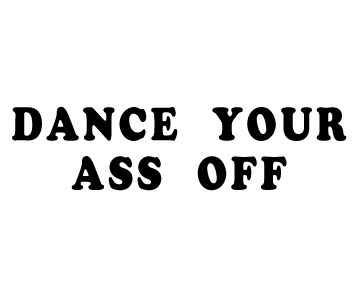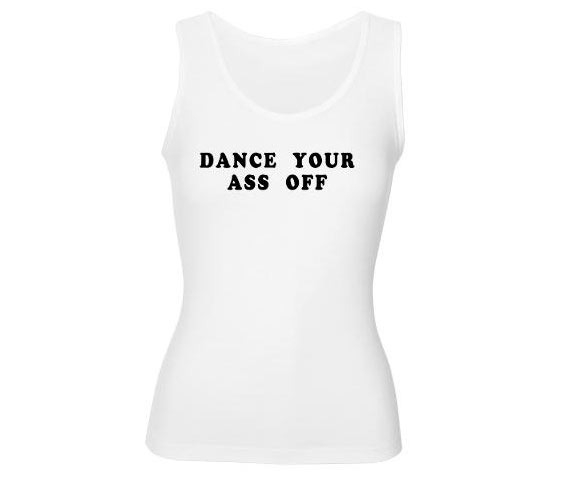 "Been working so hard; I'm punching the card.  Eight hours, for what?  Oh tell me what I got!"  As a Footloose movie fan, you've got this Dance Your Ass Off t-shirt!  Small town preacher's daughter Ariel Moore (played by actress Julianne Hough) wore this tee in the new 2011 remake that has fans of the original movie abuzz.  Create your own buzz with this design now.
The original Footloose movie was released in 1984.  It stars Kevin Bacon as big city boy Ren McCormack, a high school teenager who has just moved to a small religious town.   Ren quickly learns that the city council has recently decided to ban rock music and dancing after a tragic accident shook the town to its core.  This doesn't sit well with him or other students in the rural community.  Soon, he catches the eye of the preacher's daughter, Ariel Moore (Lori Singer), and that of her strict father, Reverend Shaw (John Lithgow), who are on opposing sides with regard to the dancing ban.  Ren's passion and his inspiring ability to dance his ass off help both the town and the reverend to realize that energetic self-expression is not the enemy.  The cast was rounded out by Dianne Wiest as the reverend's wife Vi, a young Sarah Jessica Parker as Ariel's friend Rusty and Chris Penn as Willard Hewitt, Ren's newfound friend.
The remake, released in 2011, stars up-and-comer Kenny Wormald as Ren, Julianne Hough as Ariel and Dennis Quaid as Reverend Shaw Moore.  Get the Dance Your Ass Off shirt from Footloose that Julianne Hough wears and let everyone know oldies are still goodies but remakes can give them a run for their money.  Everybody cut footloose!
Artist: Wayward Tees Categories: Costume Ts, Movies, Seen On Screen