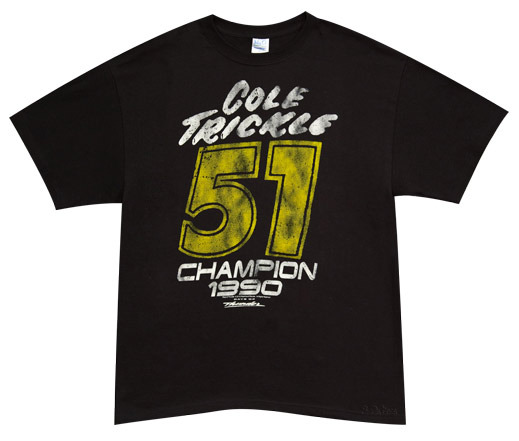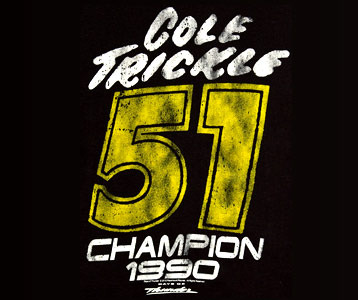 I can remember first watching the Tom Cruise movie Days of Thunder at a neighbor's house in the early 1990s.  A lot of people had been describing the film as being very similar to Top Gun, only with race cars instead of Navy fighter jets (an early working title for the movie was actually Top Run).  After growing up in a family that had been involved in bicycle and motocross racing (Rad was a previous go to movie for us), I found that the movie had a familiar feel and I instantly absorbed the thrilling NASCAR races, exciting romance and proud camaraderie that went with the sport.  If you're a NASCAR race fan or just a fan of the movie, get this Cole Trickle Days of Thunder t-shirt so that you can embody and support the fictional race car driver.
Released in 1990, the Days of Thunder NASCAR movie was produced by Don Simpson and Jerry Bruckheimer and starred Tom Cruise as rookie NASCAR driver Cole Trickle; Nicole Kidman as Trickle's doctor and love interest Claire Lewicki; Cary Elwes as dangerous racing rival Russ Wheeler; and Robert Duvall as Cole's crew chief Harry Hogge.  As Cole Trickle, who is promoted on this tee, moves up the ranks of the NASCAR circuit, he is involved in a horrible crash that leaves his friend Rowdy (Michael Rooker) unable to ever race again.  Cole is left without a sponsor or a car to race in until Rowdy asks Cole to race in his place.  This Cole Trickle Days of Thunder t-shirt shows that you supported #51 who became the 1990 rookie NASCAR champion.
With a memorable soundtrack that includes notable artists like Guns N' Roses, Chicago, Cher, Tina Turner, and The Spencer Davis Group, the movie is infused with music that complements both the thunderous roar of the engines as well as the tender romantic moments.  Composer Hans Zimmer's Days of Thunder score, especially the "Main Title" track should also not be missed.  This tee plus the soundtrack is the perfect gift for fans.
Sold by: eBay Category: Movies