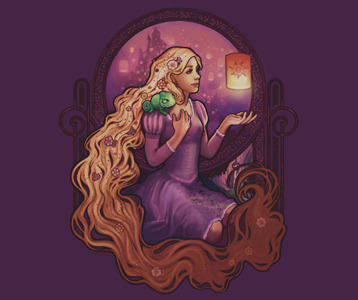 There is a new Disney princess in town and her name is Rapunzel!  If you can't quite remember which story she's from, don't worry about it.  Just read the paragraph below and we will fill you in so your daughter doesn't have to.  After seeing the Disney movie Tangled, you'll wish that this kids Disney Tangled t-shirt came in adult sizes too!  Until it does, treat your daughter to a brand new Rapunzel t-shirt.  At least the tee will help to explain why she wants to grow her hair so long.
The Disney movie Tangled is based on the Brothers Grimm fairytale Rapunzel from 1812.  In the story, the queen became very ill during her pregnancy so she stole a healing plant from a witch named Gothel (voice of Donna Murphy).  It works and she is healed, but it also leaves the unborn child, Princess Rapunzel (voice of Mandy Moore), with unexpected healing abilities.  This angers the witch, so she steals the child and locks her away in a tower hoping to find a way to take the powers from her.  After years of being trapped, Rapunzel is desperate to escape.  To make a long story short, an unexpected man named Flynn (voice of Zachary Levi) helps rescue the princess with the help of her super long hair that she dangles out of the tower.  Her hair and the tower can be seen on the front of this Disney Rapunzel shirt.  Add to the story a playful chameleon named Pascal and a horse named Maximus, and you have the newest addition to the Disney Princess family.
If you think Rapunzel fits in perfectly with the remarkable animated movies Disney has delivered, then snatch up your Rapunzel Tangled t-shirt today.  This animated telling of the Brothers Grimm fairytale just might inspire you to "let down your hair" too.