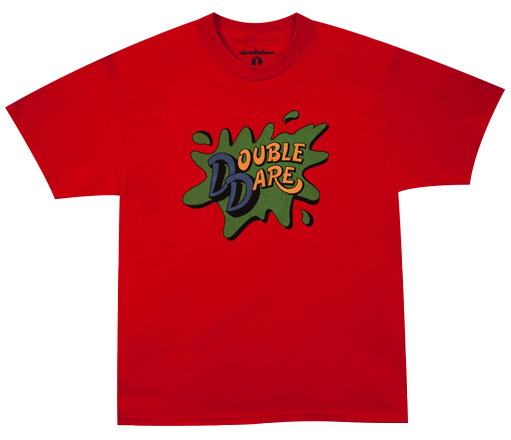 The Nickelodeon game show Double Dare premiered on the network in 1986.  The TV series, most remembered for its "physical challenges", was hosted by Marc Summers, who helmed various versions of the show all the way through until its cancellation in 1993.  TV Guide magazine ranked Nickelodeon's Double Dare #29 on their list of the 50 greatest game shows ever made.  Tell your friends that you took the physical challenge and got one of these Double Dare t-shirts as a prize.
The game show opened with host Marc Summers saying, "On your mark, get set, Go!"  The two teams then raced to complete a random challenge that was first explained by Summers.  The winner of the opening challenge would gain control of the first round.  Host Marc Summers would then explain the rules of the game in the following way, "I'm going to ask you a question, and if you don't know the answer, or think the other team hasn't got a clue, you can dare them to answer it for double the dollars.  But be careful, because they can always double dare you back for four times the amount, and then you'll either have to answer the question or take the physical challenge."  It was the physical challenges that became the show's trademark.  This Double Dare shirt celebrates the often messy challenges with a green splat in the background on the front of the tee.
The Double Dare physical challenges were stunts that had to be completed in a certain amount of time, usually 20 or 30 seconds.  The stunts were almost always messy, usually requiring the contestant to do things like fill a container past a line with green slime or whipped cream.  The Nickelodeon game show's untidy stunts stood in stark contrast with host Marc Summer's personal battles with Obsessive Compulsive Disorder (OCD), which he later revealed on various talk shows and in his book Everything in Its Place: My Trials and Triumphs with Obsessive Compulsive Disorder.
At the end of the show, the team with the highest score would attempt to complete an eight part obstacle course in 60 seconds.  An orange flag was either at the end of or hidden in each obstacle.  Upon completion, the flag was passed to another team member waiting at the start of the next obstacle.  The obstacles included tasks like finding the hidden flag in an enormous pizza.  Wear this Double Dare t-shirt as a tribute to the game show that put the Nickelodeon network on the map and helped make being slimed cool.
Sold by: 80sTees Categories: Costume Ts, Seen On Screen, TV