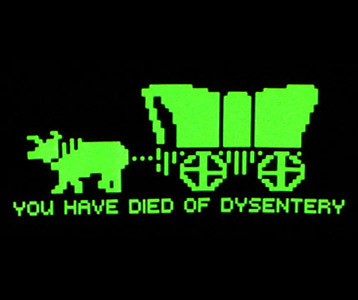 In my area of the country, most children have had every day of school off this past week because of the weather.  In turn, I have been reminiscing about my past snow days and elementary school days in general.  Walking down memory lane, I was reminded of a computer game that my friends and I used to play during computer hour each week called The Oregon Trail.  If you have fond memories of this game as well, including dying from dysentery, then grab this Oregon Trail t-shirt.
The Oregon Trail computer game is educational software designed to teach children what pioneer life was like during the migration to the Pacific Northwest in the 19th century.  Gamers begin their journey in Missouri and travel via Conestoga wagon to Oregon, encountering various hardships and tasks along the way like hunting for food.  Players may also have to contend with the deaths of their family members from seemingly harmless ailments in today's society, such as broken bones or measles.  It was designed and produced in the 1970's, so it has a classic video game feel.  The original has very basic graphics, but it improved some with each new release.
If you remember getting dysentery and dying during the 1980s or 1990s, then you should be ecstatic about this Oregon Trail t-shirt.  The You Have Died of Dysentery tee will remind generations of people of the perilous but rewarding journey that they once embarked on.
Sold by: Five Finger Tees Category: Gamer