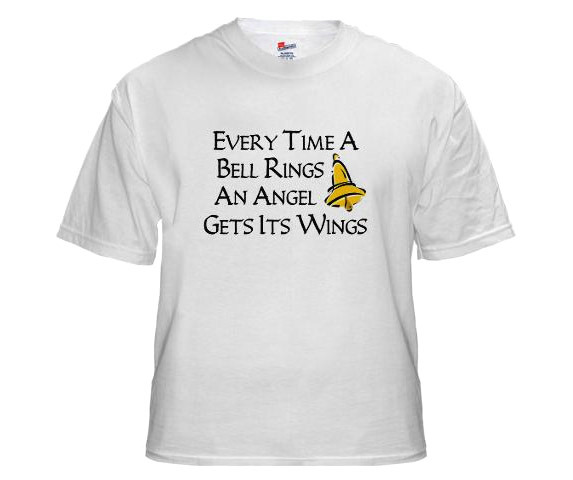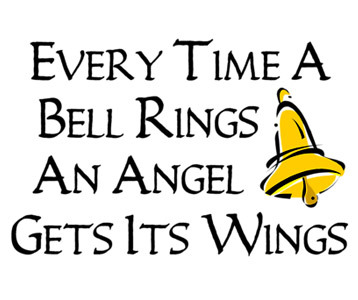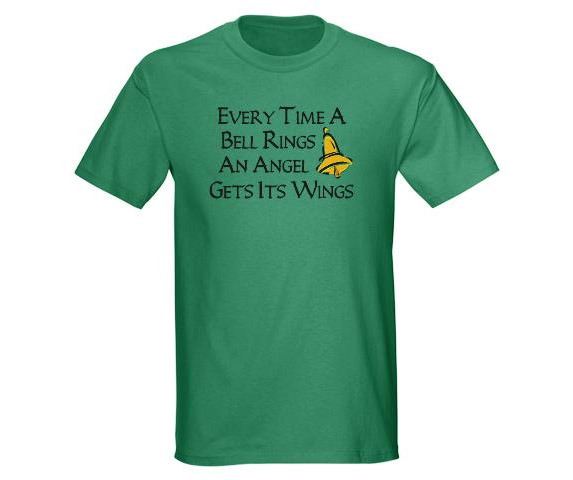 Based on the short story "The Greatest Gift" by Philip Van Doren Stern, Frank Capra's It's a Wonderful Life landed in theaters just in time for Christmas in December 1946.  Although the film ultimately told an uplifting story that addressed the very meaning about what it is to be alive, its focus on suicide, unfulfilled dreams and economic instability scared off moviegoers at the time of its release.  After all, America had just returned from the war and most were looking for lighter and all around happier fare.  Steep production costs and substantial competition at the box office didn't help its cause either.  Like most viewers, I fell in love with It's a Wonderful Life decades after its release upon watching it on TV during the holidays.  To celebrate the film and the season, I'm happy to present this Every Time a Bell Rings an Angel Gets Its Wings t-shirt.  It marks the first of several It's a Wonderful Life shirts that I plan to feature on Feistees.
The movie tells the story of George Bailey (Jimmy Stewart), an average guy who has dreams of seeing the world.  However, his dreams are continually thwarted and he is forced to remain in his hometown of Bedford Falls to operate the family's building and loan business, despite his younger brother Harry having promised to eventually take the reins.  George marries Mary Hatch (Donna Reed), a local girl, and the two have four children.  The night before the bank examiner is set to pay a visit, George's Uncle Billy (Thomas Mitchell) loses an $8,000 deposit, which will likely result in George being arrested for bank fraud, a point that the evil Mr. Potter (Lionel Barrymore) wastes no time in reminding George of when he turns down George's request for a loan to save the business.  Distraught, George sees no way out except for the realization that he is "worth more dead than alive" due to a $15,000 life insurance policy.  After leaping from a bridge, he is pulled from the icy water below by an angel who is looking to earn his wings, marking the significance of this Every Time a Bell Rings an Angel Gets Its Wings shirt.  The angel, Clarence Odbody (Henry Travers), shows George what things would have been like if he had never been born.  By doing so, he hopes that George will see how rich his life really is and will want to live again.
At the end of the film after Clarence returns to the heavens, George's daughter Zuzu delivers the movie's most memorable quote, "Every time a bell rings an angel gets its wings."  Zuzu's quote is featured on the front of this It's a Wonderful Life t-shirt.  It's perfect for fans of the beloved Frank Capra film.  After all, there is arguably no greater life-affirming movie to ever make its way to the big screen, a large part of why it is such a revered and timeless holiday classic.
Sold by: TeePublic Artist: Wayward Tees Categories: Holiday, Movies