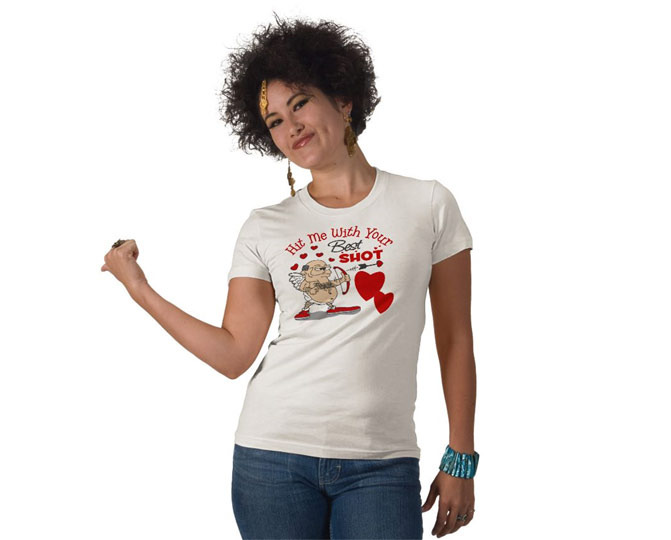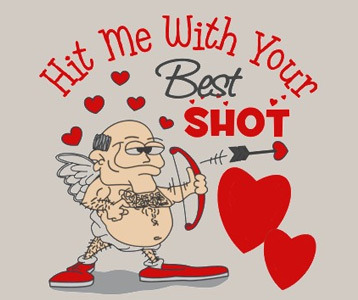 We saw this funny Valentine t-shirt and were reminded that February 14th is just around the corner.  Some of you might not like the holiday, but we are in the majority of people who do.  We don't see it as being about flowers, candies, dinners, cards and presents but as a not so subtle reminder to say how we feel.  Like many others, we get lost in the everyday hustle and bustle and forget to show how much we really do love our special someones.  Maybe this funny Valentine tee will be a light reminder not to overlook this loving holiday.
Many people consider Valentine's Day to be a greeting card company holiday, but it actually dates back hundreds of years to the time of hand written notes and prior.  While the exact origins of the holiday are unclear, we do know that it is currently dedicated to three martyred saints named Valentine.  Nowadays, Cupid, the god of love, is a prevalent figure on Valentine's Day.  For the holiday, he is often depicted as a baby with wings who shoots arrows at unsuspecting people so they fall in love.  However, in some legends he also has arrows that instill hate.
This funny Valentine t-shirt features an uncharacteristic cupid and the phrase "hit me with your best shot" from the hit Pat Benatar song.  Just as the song says, our cupid is "firing away" an arrow.  It's a cute, humorous little touch.  Hit me with your best shot!  Fire away!
Sold by: Zazzle Artist: Wolffie Category: Holiday