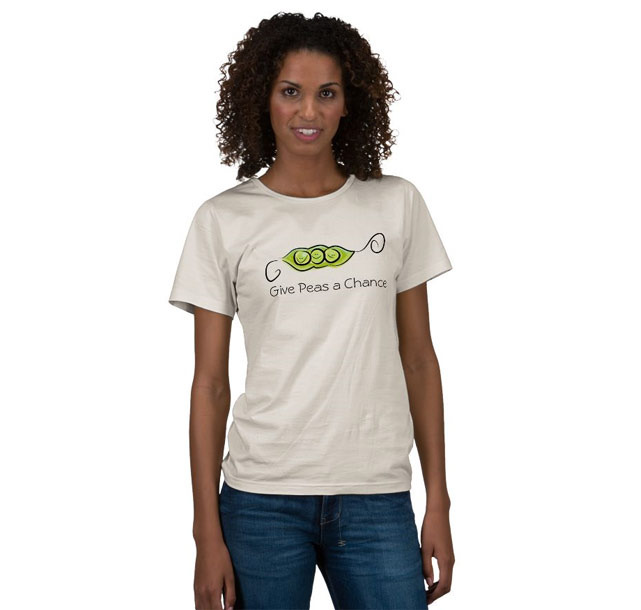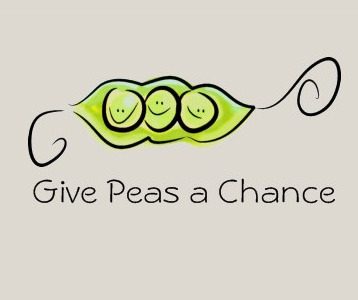 Although I'm not a vegetarian or a vegan, I realize that many people have made the commendable choice to go that route, including some of my friends.  This Give Peas a Chance t-shirt is an adorable combination of the vegetarian viewpoint and the anti-war anthem called Give Peace a Chance written by John Lennon.  It is sure to make a couple people smile and maybe the tee or even the baby Give Peas a Chance onesie will spark someone else to follow in your footsteps.  At the very least, it will hopefully inspire everyone to eat more vegetables!
Vegetarianism is a diet based solely on foods that do not include meat.  Vegetarians do not eat red meat, fish, poultry, shell fish or any other animal.  Vegetarians stick to fruits, vegetables and grains.  They typically replace meat with tofu products when cooking.  There are a variety of different types of vegetarians based on their stance on eating eggs and dairy products.  Lacto-vegetarians eat dairy products but not eggs, whereas ovo-vegetarians are the opposite.  They eat eggs but not dairy products.  People who choose not to eat either of them are called lacto-ovo vegetarians, and the people who take it a step further to include honey are considered vegans.
If this sounds like something that interests you or is something that you have dedicated your life to, then snag this Give Peas a Chance t-shirt or onesie that's perfect for baby.  You might just inspire someone, even if it means only encouraging them to eat more peas.
Sold by: Zazzle Artist: Traci Anderson Category: Food