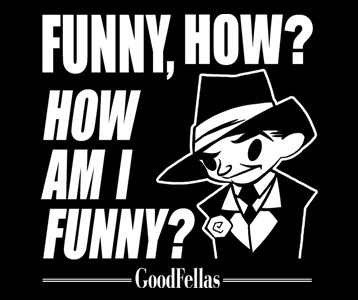 Considering you have ventured to this page, you must agree that director Martin Scorsese worked wonders with Nicholas Pileggi's books.  Or you might just be a gangster movie lover and aren't completely sure what we are referring to?  Here is some information for those interested…Pileggi wrote Casino: Love and Honor in Las Vegas, which Martin Scorsese made come alive in the movie Casino (1995).  Prior to that, Scorsese directed GoodFellas (1990), which was adapted from Pileggi's book titled Wiseguy, based around Ray Liotta's character in the movie, gangster Henry Hill.  If you think that Robert De Niro (Jimmy Conway) and Joe Pesci (Tommy DeVito) are an unstoppable duo, then snag your own Goodfellas t-shirt before you get whacked!
As you know, this story is based on actual events, following Henry Hill and his escapades working for the mob.  Here is what you may not know; after he got out and was put in the witness protection program, he was eventually banned from it because he kept breaking the law!  Talk about ungrateful but totally gangster to say the least.  Everyone knows someone who is a fan of the film.  You've probably heard your friends utter quotes from the movie, so get them a Goodfellas tee today so they can do it in style.
"I'm not mad, I'm proud of you. You took your first pinch like a man and you learn two great things in your life. Look at me, never rat on your friends and always keep your mouth shut."  Perhaps the most memorable quote is Joe Pesci's quote from GoodFellas, "I'm funny how?  Funny, like I'm a clown?  I amuse you?  I make you laugh?  I'm here to f**king amuse you?  What do you mean funny, funny how, how am I funny?"  He keeps Ray Liotta's character on the ropes until Liotta's Henry Hill calls his bluff and everyone has a good laugh.  Reveal your own funny side in this Goodfellas t-shirt that's perfect for both wiseguys and wannabe gangsters.
To learn more about the actual events behind the movie, visit the GoodFellas page at ChasingtheFrog.com.
Sold by: CafePress Artist: Wayward Tees Category: Movies