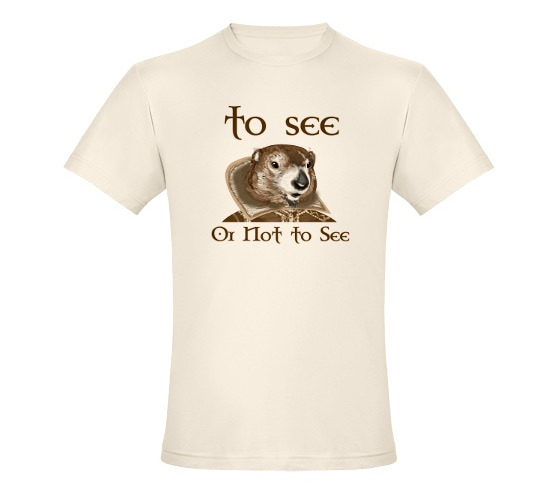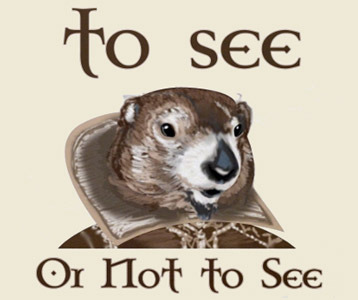 For the first time in a while, our area woke up this morning to rain instead of snow.  It was a nice way to start the day and it quickly reminded me that Groundhog Day is next week.  Let's just hope that Phil won't see his shadow so we can move into spring.  Whether you are hoping for rain or snow, this Groundhog Day t-shirt will show that you are a fan of this time honored tradition.
Groundhog Day is a national holiday celebrated every year on February 2nd in Punxsutawney, Pennsylvania.  German settlers began the ritual in the 1800's, with the first official trip to Gobbler's Knob beginning in 1887.  There, the groundhog Punxsutawney Phil comes out of his burrow and predicts the weather for the next six weeks.  If he sees his shadow, we are in for six more weeks of winter but if he does not, then spring is here.  Phil reports his findings to his keepers in Groundhogese and they translate it for the world to hear.
While this Groundhog Day tee may seem like it promotes an odd tradition, the ritual dates back even further to the European legend of Candlemas Day.  If the day was clear, there was to be more winter and if it was cloudy, spring began.  As the Romans took over, a hedgehog casting his shadow on a sunny Candlemas Day meant that there would be more winter.  Ultimately, this stuck but when the Germans settled in Punxsutawney they had a lack of hedgehogs, so groundhogs took their place.  In case you're wondering, a woodchuck is another name for the same animal, despite what many people believe.
This Groundhog Day t-shirt highlights Punxsutawney Phil's amazing prognosticating abilities.  We hope this tee reminds you that traditions can be fun and exciting.
Sold by: CafePress Artist: Amy Middleton Category: Holiday