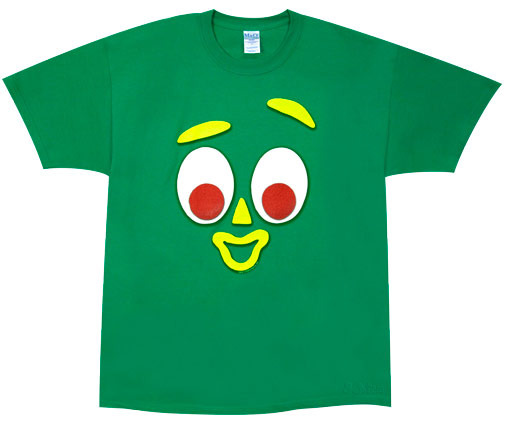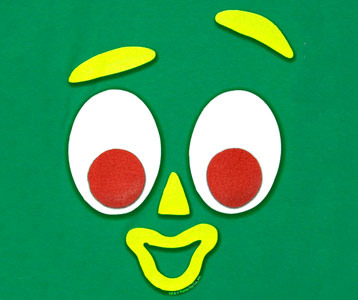 What is lovable, bendable, smiley and green all over?  Okay, not the best riddle but if you answered Gumby then we are on the same page.  This Gumby t-shirt fits all of the same criteria as well, so if you love the green guy himself then this Gumby tee is bound to put a smile on your face too.
The Gumby TV show is well known for the claymation (stop animation using clay figures) technique used to send him on his crazy adventures.  He was created by Art Clokey in the fifties and was originally featured in a short film but was soon tested on audiences for TV.  It did well and went on to become a television series that ran for more than three decades with well over two hundred episodes.  Gumby introduced viewers to his family that included mom Gumba, dad Gumbo and dog Nopey, as well as numerous other friends.
No one compared to his trusty sidekick Pokey.  The orange horse accompanied Gumby virtually everywhere until the TV show ended in the nineties.  Although they seem like complete opposites, their friendship was one that most would envy.  Whether you wish you had a connection like that with someone or are lucky enough to have someone who would stand up to the Blockheads with you, snag one of these green Gumby t-shirts today.  Since this hit spanned so many decades, it would also make a nice surprise for a man or woman of any age looking for a fun costume tee for Halloween or everyday wear.
Sold by: Amazon Categories: Costume Ts, TV