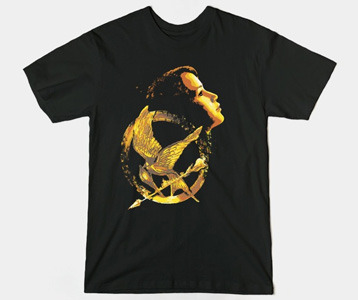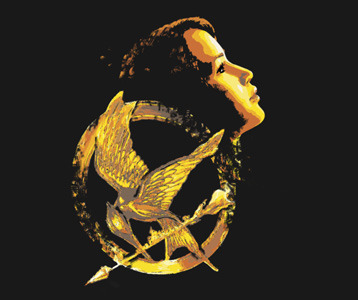 Browse More Hunger Games Tees and Mockingjay Pins
Suzanne Collins' novel The Hunger Games tells the story of sixteen-year-old Katniss Everdeen, who lives in the post-apocalyptic country of Panem where America once stood.  In this futuristic world, the government rules with an iron fist from a central city known as the Capitol.  In order to thwart future rebellions, once a year the government selects a boy and a girl from each of the country's twelve districts to compete in a televised event called The Hunger Games.  Over a period of several days, the kids fight each other to the death until only one remains.  If Suzanne Collins' book has left you hungry for more, this Mockingjay Hunger Games t-shirt will help tide you over until the movie's release.
Suzanne Collins' first book spawned two sequels, Catching Fire and Mockingjay, published in 2009 and 2010 respectively.  The collective trilogy is represented by this Hunger Games tee.  Author Suzanne Collins' has said that the idea for her story came to her one day while flipping through the channels on her TV.  Images of reality TV and the Iraq War began to blend together.  She fused that with the Greek myth of Theseus, which involved the city of Athens sending children to the island of Crete to be devoured by the Minotaur, a creature with the head of a bull and the body of a man.  The government did this to send a message.  If you mess with us, we won't kill you.  We'll kill your children.
The significance of the symbol on this Hunger Games Mockingjay t-shirt can be understood after reading the books.  The image, not including the arrow, is from a mockingjay pin that the Mayor's daughter, Madge Undersee, gives to the main character Katniss Everdeen in the first book.  "It's as if someone fashioned a small golden bird and then attached a ring around it.  The bird is connected to the ring only by its wing tips.  I suddenly recognize it.  A mockingjay."
Wear this stylish Hunger Games t-shirt and tell everyone that you're from District 12 in Appalachia.  Tell them that you know Katniss and Peeta Mallark, the boy who saved her life by giving her bread when her family was starving.  The two also competed together in the annual duel to the death with 24 other kids between the ages of 12 and 18.  This Mockingjay Hunger Games tee is the perfect tribute to Suzanne Collins' trilogy.