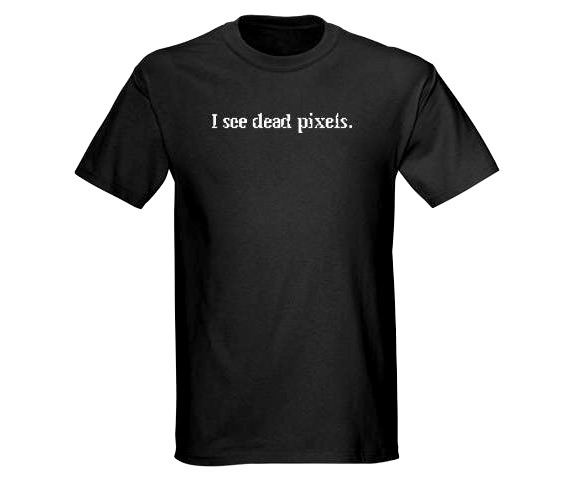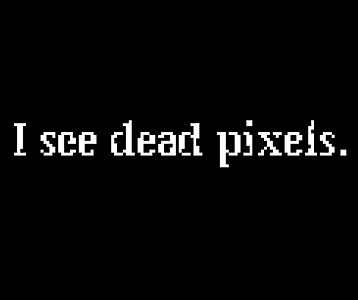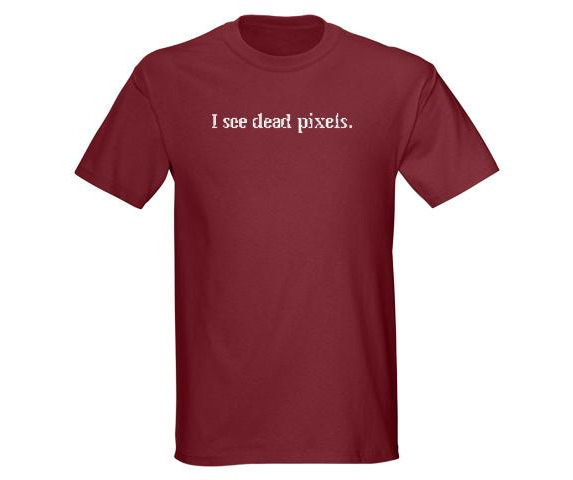 I see dead pixels, trying to act like regular pixels.  They don't even know they're dead.  If you've seen the 1999 Bruce Willis movie The Sixth Sense, or if you've ever seen a preview for the movie, then you know that this t-shirt is a parody of Haley Joel Osment's famous movie quote, "I see dead people."  The film's success was largely due to the effectiveness of the movie's trailer, which not only included this quote, but also featured Osment's character, Cole Sear, revealing to his mother that the woman in the car accident ahead of them broke her neck.  Sitting idle in traffic, Cole's mother asks, "Oh my God, where is she?" to which Cole replies, "Standing next to my window."  It is one of the most effective movie trailers ever produced and it became a blueprint for future filmmakers and movie studios.  This I See Dead Pixels t-shirt plays on the popular Sixth Sense quote by poking fun at an equally disturbing issue that has arisen with the advent of flat panel TVs and computer monitors, the issue of dead pixels.
A few years back when I was purchasing a new monitor, I encountered a dead pixel.  It had a ghostly reddish glow and it was quite upsetting.  Realizing that you have a dead pixel can be a traumatic experience, especially when you realize there's no bringing it back to life.  I immediately returned my new display and opted for a rival brand.  I have yet to encounter another deceased pixel, but the fear is there with each new TV or monitor that I purchase.  There's no saying what would have happened if I had watched M. Night Shyamalan's Sixth Sense movie on a display with a dead pixel.  Would I have ended up cursed, or would the world have immediately ended?
Whether you buy it as a Sixth Sense t-shirt or just for laughs, the humor in this I See Dead Pixels shirt will be recognized by almost everybody.  After all, who hasn't seen "that movie with that kid who can see dead people"?