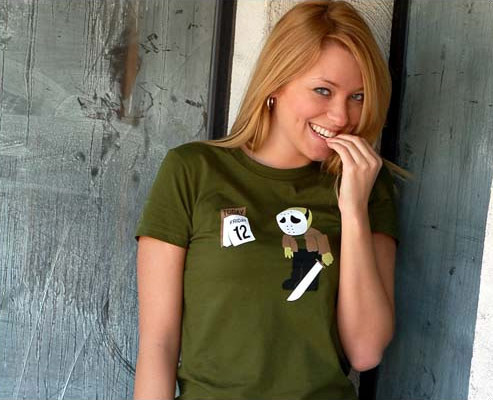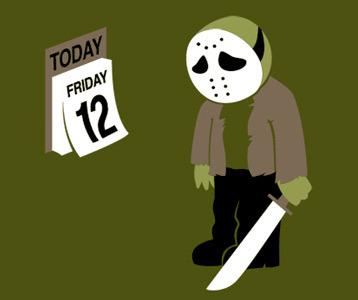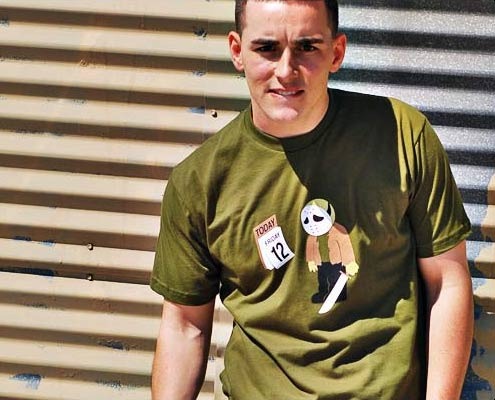 This comical Jason Friday the 12th t-shirt struck me today as I realized that it was in fact Friday, February the 12th rather than the 13th.  I am happy to say (even if Jason Voorhees isn't) that this month we are free of Friday the 13th and aren't scheduled for one until August of this year.  If the thirteenth is often a day of habitual bad luck for you like it tends to be for me, then grab this Friday the 12th tee.
The fear of this day is formally known as paraskevidekatriaphobia.  Although you may think these types of things are silly, many people are superstitious in one way or another.  Whether or not you believe that a four leaf clover is good luck or you tell an actor to "break a leg" instead of saying "good luck" so you don't jinx them, you are at least aware of these common superstitions.  Most of us are familiar with numerous others such as if you break a mirror, then you will have seven years of bad luck.  Even hotels and cities avoid the use of the number 13 to try to keep problems at bay.
Get this Jason Friday the 12th t-shirt if you are thankful that Jason won't be hunting you down today, stimulating your paraskevidekatriaphobia.  I've often wondered what he does on his days off.  Maybe he goes fishing at Crystal Lake or spends his free time sharpening his weapons.  The fact that it's the twelfth may also just save you from spilling coffee on your pants this morning.  You never know.
Artist: Snorg Tees Category: Movies