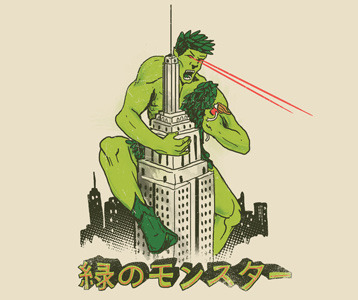 We are closing in on the second month of the new year and for the first time ever I am doing surprisingly well on my resolutions.  Yes, plural, I made multiple resolutions.  I was hoping that at least one would actually make it through the whole year.  Like millions of other people, I resolved to eat healthier, primarily by consuming more vegetables throughout the day.  This Jolly Green Giant t-shirt is a subtle reminder that veggies can be easily added to your diet, especially if you don't have time to clean and prepare fresh vegetables for every meal.
The character on this Jolly Green Giant tee was originally a mascot for the Minnesota Valley Canning Company, until his popularity sparked the company to change its name to Green Giant.  Now he and his apprentice Sprout are some of the most well known food figures in the business.  These two light green skinned giants are clad in an asymmetrical garment and shoes made of dark green leaves.  They are often seen together in promotions even though they were created 45 years apart, with Jolly's first appearance in 1928 and Sprout's in 1973.
Grab this Jolly Green Giant t-shirt if you agree with the company's decision to rename themselves after their mascot.  We love him and apparently millions of others do too.  Hopefully, this tee will remind others of this lovable character, while at the same time helping you to keep your resolution intact.
Sold by: TeePublic Category: Food