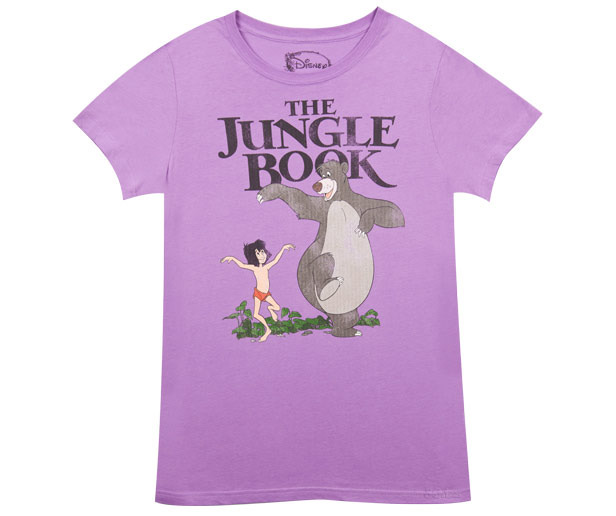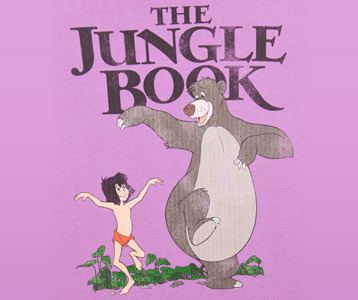 Disney movies always find a way into a child's heart even if they were released decades before they were born.  The Jungle Book t-shirt shown here represents a classic example of an animated film that isn't going anywhere anytime soon.  A tee like this one is "a simple bare necessity" as the fun-loving bear Baloo would say.
Disney's movie The Jungle Book was released in October of 1967 and was the final film that Walt Disney produced before he died.  It is based on a book of stories by Rudyard Kipling that was published in 1894.  In the film version, a young orphan named Mowgli, who is pictured on this t-shirt, is left in a jungle in India.  He is taken in by a family of wolves who raise him into adolescence.  At that time, they believe it is necessary for him to live in the Man Village with his own kind because it is too dangerous for him in the jungle.  While being escorted to safety, Mowgli decides he knows better and keeps escaping his protectors.  He meets a variety of interesting characters along the way, including his new best friend, a bear named Baloo who is also featured on this tee.
Ultimately, everyone looking out for him takes him to safety and he decides to stay after meeting a young girl from the Man Village.  The Jungle Book shirt available here is great for anyone who is still a kid at heart, thinks they always know best, or know what a true friend like Baloo is.  I believe everyone has a little bit of Mowgli in them!
Sold by: Zazzle Category: Movies