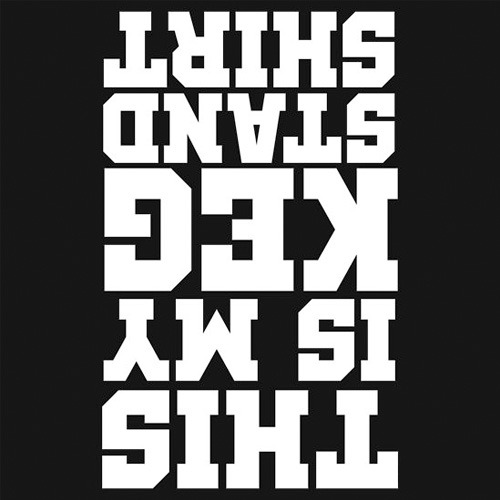 Spring break is near and college students from around the country will be flocking to the nearest…or farthest beach that they can afford to travel to.  There, they can bask in the sun, drink themselves into oblivion, and forget about everything even remotely related to school.  I must admit that it is a fun experience, especially during senior year before you are thrown into the real world.  It is the land of bills, waking up early, job hunting and no money from your parents.  Hold onto the fun times with this Keg Stand t-shirt.  This beer drinking tee will remind you of some of the most memorable parties of your college career.
A keg stand is when a drinker holds onto a keg of beer and is held upside down while drinking directly from the tap.  It is often turned into a competition based on the length of time (typically counted off in seconds out loud) that the drinker can keep drinking before quitting.  Other times, it is purely for fun and considered another more creative way of consuming beer that is very common at college parties.
If you are just starting your college career or reminiscing about the better times in life, like college parties, then this Keg Stand t-shirt is likely to quench your desire.  It is available in a variety of colors bound to make anyone drool.
Sold by: RedBubble Category: Food