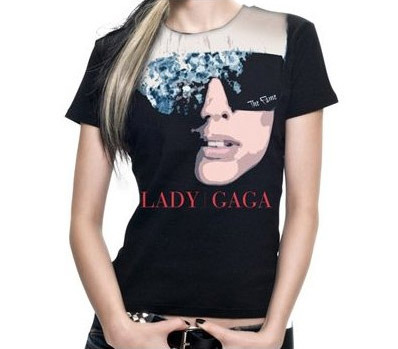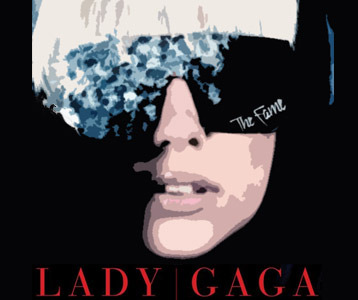 Yes, Little Monsters, it is a Lady Gaga t-shirt!  It's the perfect piece of clothing in which you can sing lines like, "I'm your biggest fan, I'll follow you until you love me, papa-paparazzi.  Baby there's no other superstar, you know that I'll be your papa-paparazzi."  All eyes are on her wherever she goes because fans and reporters alike can't get enough of her and her outrageous costumes.  This tee celebrates the fame, music and style that Lady Gaga expresses at her concerts, in her music videos and during her performances.
Stefani Joanne Angelina Germanotta, now known as Lady Gaga, has been dominating the charts since the release of her first album in 2008, The Fame.  Along with her flamboyant Lady Gaga costumes, songs like "Just Dance", "Paparazzi" and "Poker Face" grabbed people's attention, ultimately landing her several Grammy wins.  Her fans, or little monsters as she likes to call them, just can't get enough and it's obvious she doesn't disappoint.  In 2009, she released her second album aptly titled The Fame Monster, launching singles like "Bad Romance", "Telephone" and "Alejandro".  Currently, she shows no signs of stopping or even slowing down.  Her concert tours are selling out and she continues to release chart-topping songs.  I can't wait to see what she comes up with in the future and I'm always keeping an eye on her clothes.  Whether she is fashioned in a dress made of Hello Kittys or dressed like a muppet, fans eat it up.  You never know what she is going to come up with next!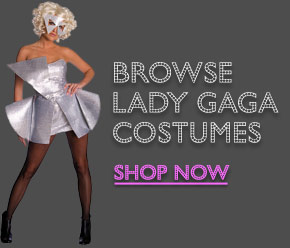 If she keeps you wondering, humming along and dancing, then snag your Lady Gaga t-shirt right now.  It might help you put on your poker face. If you want to indulge yourself even more, browse the Lady Gaga costumes, wigs, corsets, hair bows and gloves.
Category: Music