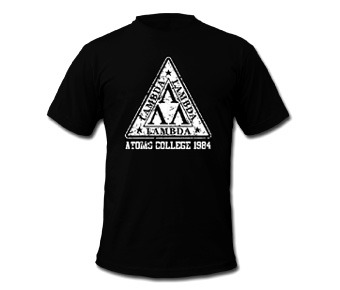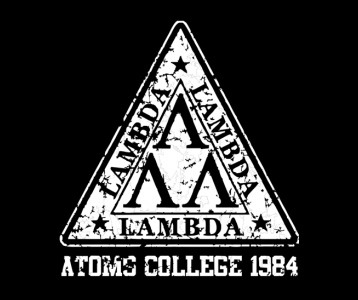 Whether you liked the movie or not, there is no mistaking this Lambda Lambda Lambda Revenge of the Nerds t-shirt.  The Tri Lam design is highlighted throughout the movie as the fraternity battles to become the best on campus.  Apparently, they were looking to reel in some girls hipper than the Omega Mu's and if you are too, then get this tee today.
The movie Revenge of the Nerds was released in 1984.  The film follows two young nerds, Lewis (Robert Carradine) and Gilbert (Anthony Edwards), as they try to navigate through their first year at Adams College (Home of the Atoms).  They quickly learn that you can't just start over in college and that their geekiness still makes them an easy target.  Soon, they are relocated from their dorms into the gym so the Alpha Betas have a place to stay after burning down their own fraternity house.  The two guys along with new friends, including Lamar, Booger, Poindexter, Takashi and Wormser form a fraternity of their own called Lambda Lambda Lambda, which is celebrated on this tee.  Ultimately, the Tri-Lams get their revenge by showing the Alpha Betas that brains can beat brawn (as well as win over their gals).
This Revenge of the Nerds Lambda Lambda Lambda t-shirt is perfect for anyone who was picked on in high school or college, or that simply loves this comedy.  A Nerds remake was scheduled to be released in 2007, but Fox Atomic cancelled the project shortly after shooting began due to a subpar filming location and disappointing dailies.
Sold by: 80stees Categories: Movies, Seen On Screen