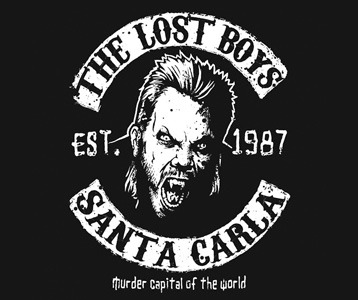 This morning we lost another eighties icon, actor Corey Haim, so I am posting this Lost Boys t-shirt.  He is well known for being one of "the two Coreys" with the other being his best friend Corey Feldman.  The two were considered heartthrobs and everyone had their favorite.  Corey Haim and Corey Feldman worked together on eight movies, including The Lost Boys in 1987, License to Drive in 1988, Dream a Little Dream in 1989, Blown Away in 1992, Last Resort in 1994, Dream a Little Dream 2 in 1995, Busted in 1997 and Lost Boys: The Tribe in 2008, as well as a reality television show based on the duo called The Two Coreys during 2007 and 2008.
Corey Haim was born on December 23, 1971 in Toronto, Ontario and broke into films during his early teen years.  His title role in the 1986 movie Lucas thrust him into the spotlight and made him a household name.  He met Feldman in 1987 on the set of The Lost Boys and the two quickly became inseparable.  During the nineties, the two became distanced due to drug addiction issues and a molestation dispute, which also proved to be a strain on the relationship later when they attempted to reconcile in the new decade.  Despite it all, the two were on good terms when Haim died today at the age of 38.
Get this One of Us Lost Boys t-shirt to remember the movie that brought "the two Coreys" together and sparked a lifelong friendship.  Wear this tee to remember the dynamite duo and celebrate some of their best work.  Haim will be greatly missed and we here at Feistees wish Corey Feldman the strength to pull through this tragedy.
Sold by: TeePublic Category: Movies