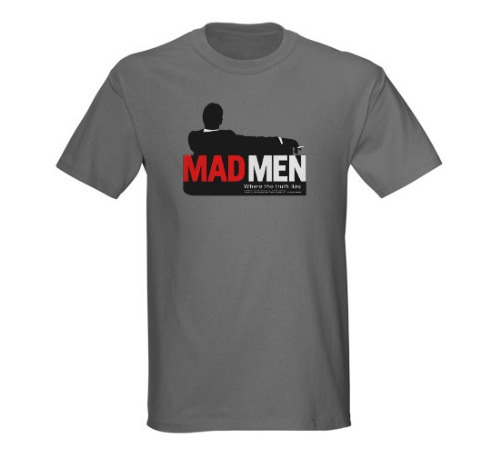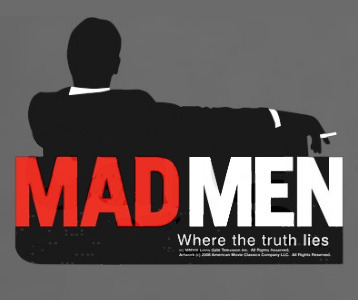 Have you ever looked around and wished you could step back in time, back when everything was more attractive and life was less complicated?  Furniture, clothing, cars, roads, buildings…everything was made better and you could see the quality in the workmanship.  There wasn't even the possibility of having a cell phone buzzing in your pocket while you're trying to check out and bag your own groceries at the super market, because customer service meant something back then.  AMC's TV show Mad Men helps you to remember a less complicated time in the world and so can this Mad Men t-shirt.
In case you haven't caught on to this Emmy (and Golden Globe) winning show yet, let me give you a quick synopsis.  Mad Men is a drama about a talented advertising executive named Don Draper (Jon Hamm), who works on Madison Avenue in New York City during the 1960's.  The storyline revolves around both his work at the Sterling Cooper Draper Pryce Advertising Agency where he is surrounded by mostly men, and his life at home where he is surrounded by his wife Elizabeth Draper (January Jones) and his three children.
The AMC TV show is filled with culture from the decade and it does not shy away from expressing views and habits that are not as well accepted today, including sexism, adultery and smoking.  It helps shine some light on the fact that not everything has gotten worse as time moved on, even if it sometimes seems that way.  Now lay back, relax and enjoy the show in your new Mad Men t-shirt.  Just do your best to not start acting like Jon Draper.
Sold by: CafePress Category: TV