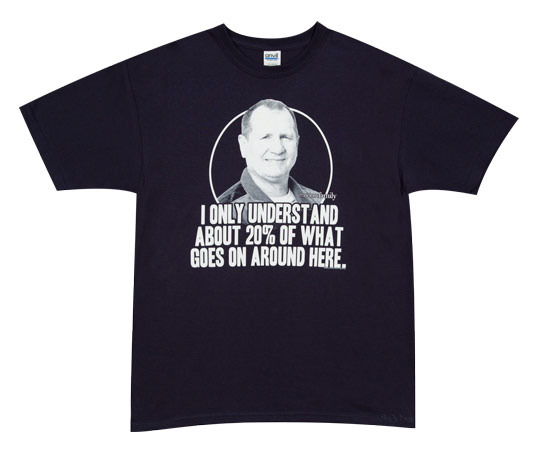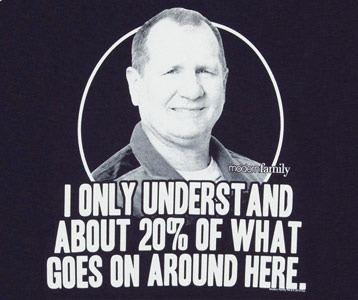 When most people think of family, they envision the stereotypical working husband, homemaker wife, two well-behaved children and a family pet or two exclusively limited to dogs and cats.  This however is a more vintage version than a modern one.  The Modern Family TV show demonstrates exactly how complicated it can be nowadays.  If you love the show or don't fit into the stereotypical mold, then snag this Modern Family t-shirt for yourself and all the members of your oddly interconnected yet perfect family.
The Emmy winning comedy represented by this Modern Family tee debuted in 2009 on FOX and has yet to disappoint.  Viewers follow the lives of three families complexly interrelated through one man, Jay Pritchett (Ed O'Neill, formerly known as Al Bundy).   The first of the three is the least complex.  It consists of Jay, his marriage to a considerably younger Columbian woman named Gloria (Sofia Vergara), and his stepson Manny.  The second is Jay's daughter Claire's (Julie Bowen) family including her husband Phil Dunphy and their three kids, Haley, Alex and Luke.  The third is Jay's son Mitchell's (Jesse Tyler Ferguson) family that includes his partner Cameron Tucker and their adopted Vietnamese baby, Lily.  I think this collection of families covers just about every combination or occurrence in a typical family today.
If you love watching the interworking of relationships in a lighthearted way, then you've found the ideal show.  Grab your Jay Pritchett Modern Family shirt today and spread the word that there is no such thing as a normal family anymore, only a modern one!
Sold by: Amazon Category: TV