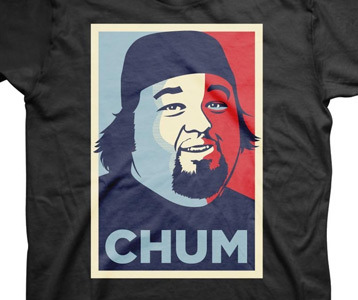 Whoever thought that the daily activities of a Las Vegas pawn shop would make a good television show was a genius!  Pawn Stars is not only amusing but also informative.  You get to see tons of antiques and oddities, as well as observe negotiating tactics and learn how to spot fakes.  If you find it as interesting as I do, then get this Pawn Stars t-shirt to celebrate the History Channel TV show that blends humor, history and unique characters like Chumlee, who is pictured on this Chumlee tee.
After a disastrous real estate venture, "The Old Man" decided to relocate to Vegas in 1988.  He opened The Gold and Silver Pawn Shop and his son Rick Harrison quickly took an interest in the trade.  After earning a considerable amount of money in high school selling fake purses, Rick dropped out and bought a stake in his father's business.  He has been working there ever since and now his own son Corey is learning the industry too.  Corey Harrison's friend Chumlee rounds out the group nicely and provides much of Pawn Stars' humor.  He has been friends with Corey since childhood and is looked at as the idiot of the family.  For those of you who always wondered about his name like I did, I discovered his real name is Austin Russell.  His nickname Chumlee dates back to grade school and is based on a walrus from the sixties cartoon Tennessee Tuxedo.
If you like to watch the wheeling and dealing, then grab your own Chumlee Pawn Stars t-shirt today.  If you worked there, what would your name be, The Money Maker or The Gambler?  To be a pawn star, you have to learn when to take risks, how to negotiate and when to call in the experts.  However, this tee probably won't help to convince anyone that you know what you're talking about.
Sold by: eBay Category: TV