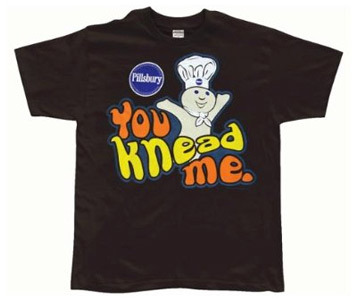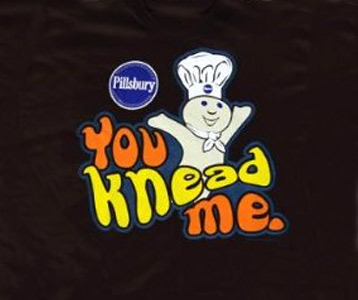 Another year, another birthday…the older you get the less you really feel like celebrating, but it's still fun to celebrate other people's big days…especially if there is cake involved! It is 2010 and The Pillsbury Doughboy is turning 45 this year, so we decided to post this Pillsbury Doughboy shirt. Who can resist this lovable bundle of dough? Apparently, not many of us can or Pillsbury would not have used him in hundreds of commercials throughout the years.
While we know him simply as The Doughboy who rubs his tummy and giggles after being poked in the stomach, the Pillsbury Company mascot's real name is Poppin' Fresh. He was created by Rudy Perz and drawn by Martin Nodell for an ad campaign in 1965. The following decade, Poppin' Fresh had a small doughy family that included his wife Poppie Fresh, grandfather GrandPopper, grandmother GranMommer, cat Biscuit and dog Flapjack. The characters for the commercials were originally made of clay and filmed using stop motion animation. Poppin' Fresh has since been brought into the world of technology, now being animated through CGI. Either way, we love him and this Doughboy tee.
If this ball of dough has a special place in your heart, with his big blue eyes, chef's hat and scarf, then grab this Pillsbury Doughboy t-shirt and get cooking. Poppin' Fresh would probably suggest some Funfetti cake or cinnamon rolls and we couldn't agree more. Celebrate good times come on! :::tummy poke::: Hoo-Hoo!
Sold by: Amazon Category: Food