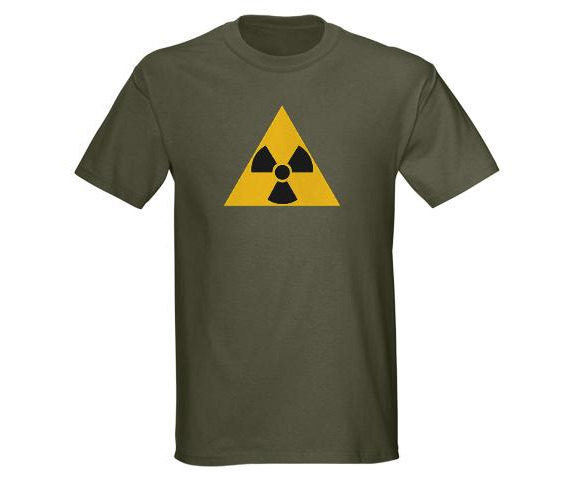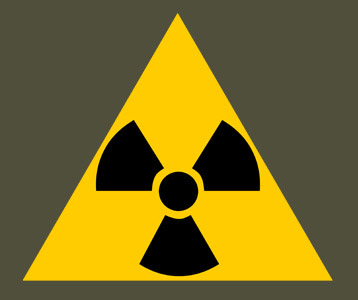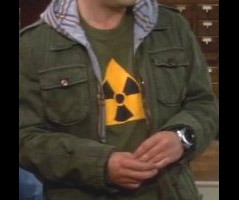 Many people have hopped on The Big Bang Theory TV show bandwagon and honestly I didn't understand it for a long time.  (Don't attack me yet!)  Apparently I didn't give it a fair chance at first because now I'm a newbie who can't catch up fast enough.  I spotted Leonard's Radioactive t-shirt on an episode today and decided I had to have it.  This is for people who feel the same way about the Johnny Galecki tee design.
Please bear with me…I decided to go on a Sheldon style rant for this particular post to fit the theme.
Did you know that the international radiation symbol is officially called a trefoil?  The trefoil was first used by workers at the University of California's Berkeley Radiation Lab in 1946 and was not originally in black and gold, but rather magenta and blue.   It replaced the more common skull and crossbones warning, although I'm not sure why because that seems like a more serious warning.
If you remember this informative mini-lesson, then this Big Bang Theory Radioactive shirt worn by Leonard Hofstadter can be more than just comfortable for you, it will also be an instructional tool.  Use it to teach others about the nuclear trefoil symbol.
Artist: Wayward Tees Categories: Costume Ts, Geek, Seen On Screen, TV