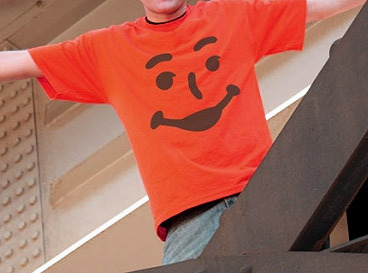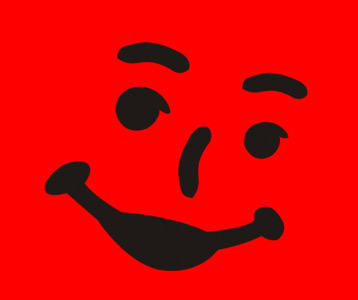 We had rain today!  That might not seem exciting to you but this is the first time in months that I've seen rain fall instead of snow.  There is no denying it is getting warmer outside and with warm weather comes cold refreshing drinks.  Kool Aid was the first drink to come to mind, so I hunted down this Kool Aid Man t-shirt.  I found that this tee lifted my spirits and I assumed it may do the same for you.
Kool Aid began as a concentrated liquid called Fruit Smack that was created in Nebraska during the 1920s by an inventor named Edwin Perkins.  In 1927, he was able to change the liquid product into powder and began selling it in the six original liquid flavors of cherry, strawberry, raspberry, orange, grape and lemon lime.  The product took off and in 1953 Perkins sold his company to General Foods, which was later bought out by Kraft Foods who now sell the drink mix.  In 1954, Pitcher Man was created to advertise the drink's affordability as well as attract the interest of children.  About twenty years later, the mascot on this tee was renamed Kool Aid Man but is still the character we all love.
Your favorite flavor doesn't have to be tropical punch, strawberry or cherry to appreciate this design.  Anyone can snag this red Kool Aid t-shirt and enjoy toasting to the warm weather to come.  Oh yeah!
Artist: Textual Tees Categories: Costume Ts, Food