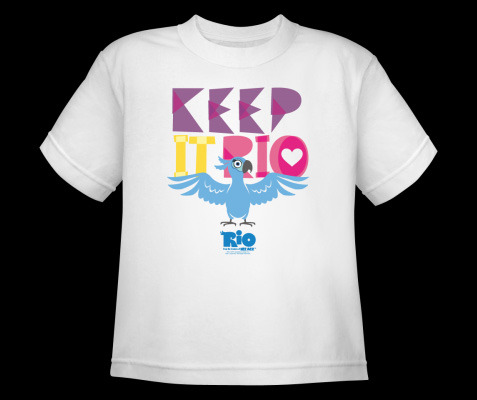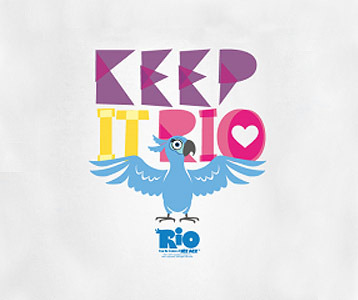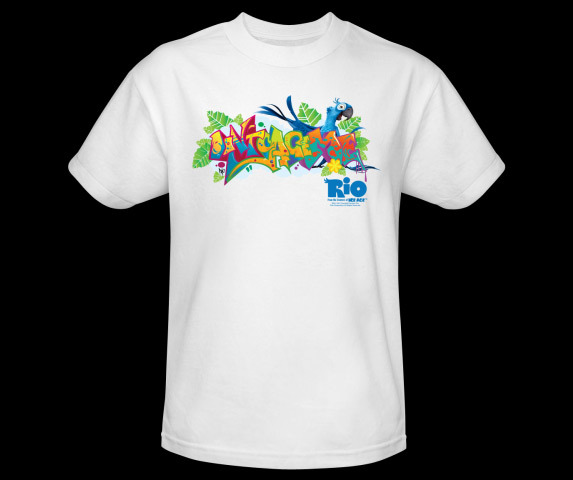 In the past when I thought of a ton of vibrant colored tropical birds singing, I pictured the Enchanted Tiki Room attraction at Walt Disney World from when I was a kid. However, thanks to the recent release of the 20th Century Fox computer-animated film Rio, that is not the case anymore.  This Rio movie t-shirt is for anyone who has taken a liking to the animated blue macaws, toucans, parrots and other birds from the film.
Released in 3D, the movie Rio is an exotic extravaganza of sorts that tells the story of a young blue macaw named Blu (Jesse Eisenberg) who can't fly.  After determining he is the last known male blue macaw, he is taken to Rio to meet a female blue macaw named Jewel (Anne Hathaway) in hopes that the two will breed.  Unfortunately, they are captured because of their rarity and extreme value, and it is then that the adventure truly begins.  A wide assortment of tropical animals completes the cast, both helping and hurting the duo as they desperately try to avoid being caged.  These additional characters can be found on a variety of Rio movie shirts, hats, mugs and other merchandise.  Will Blu ever find the rhythm in his heart to fly, or will he fall flat for the rest of his life?  Support Blu with one of these colorful Rio cartoon tees.
Like the birds themselves, this Rio movie t-shirt is going to fly off the shelf, so swoop in and claim yours before they go extinct.  It just might help you to keep it Rio, whether you're sidewalk surfin', mastering the samba or learning to fly.
Category: Movies