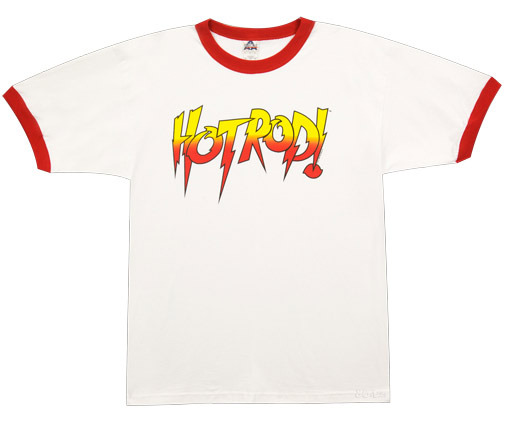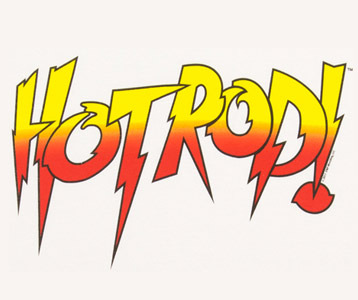 As a kid growing up in the 1980s, there were a handful of staple TV shows that I used to make an effort to watch.  One of those was Saturday Night's Main Event produced by the WWF (before it had to legally change its name to the WWE).  My friends and I would crowd around the TV cheering on favorites like Hulk Hogan, Andre the Giant, Sgt. Slaughter and the heel Rowdy Roddy Piper, a wrestler who dressed in a kilt and entered the arena carrying bagpipes.  Despite being born in Saskatchewan, Canada, his Scottish heritage was an inspiration for his ring persona, which also often found him in the familiar Hot Rod t-shirt featured here.
Born Roderick George Toombs, Roddy Piper got his start in professional wrestling at the age of fifteen after being expelled from junior high.  At the same time, a falling out with his father resulted in him leaving home and staying in youth hostels.  By the late 1970s, Piper found himself wrestling in Los Angeles for NWA Hollywood Wrestling and eventually heading to the Mid-Atlantic in the early 1980s, where he wrestled notable opponents like Ric Flair and Sgt. Slaughter.  It was around this time that he was courted by WWF owner Vince McMahon, who brought Piper onboard in late 1983.  His persona as a heel quickly flourished and the WWF's mainstream audience began to recognize him for his Scottish clothing, bagpipes and this characteristic Rowdy Roddy Piper t-shirt that is still a fan favorite.
At the time that he was making his transition to the WWF, Piper was still nursing injuries from earlier matches, one of which left him with a broken eardrum and permanent hearing loss.  Instead of thrusting him straight into the ring, he hosted an unscripted WWF interview segment called Piper's Pit that allowed him to maintain his feuds without wrestling as much.  During the segment, in which he could often be seen wearing his Hot Rod shirt, Piper would interview fellow notable wrestlers and rivals.  The popularity of the segment grew and it became a permanent fixture, often ending in brawls between himself and his guests which helped to set up future matches.  If reminiscing about 80s' wrestling and classic WWF gets you a bit rowdy, this Roddy Piper shirt will surely help you to blow off some steam.  It also makes for a great WWF costume tee.
Sold by: 80stees Categories: Costume Ts, Seen On Screen, TV