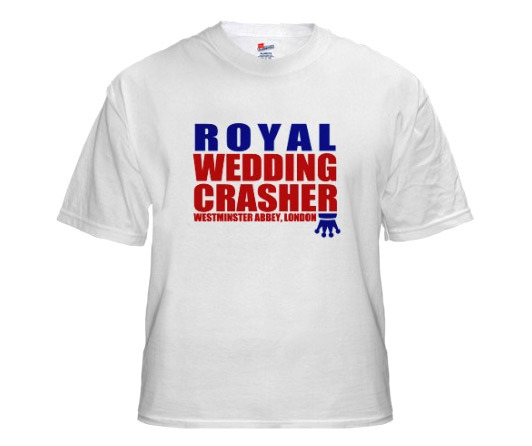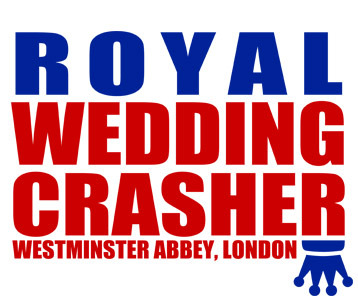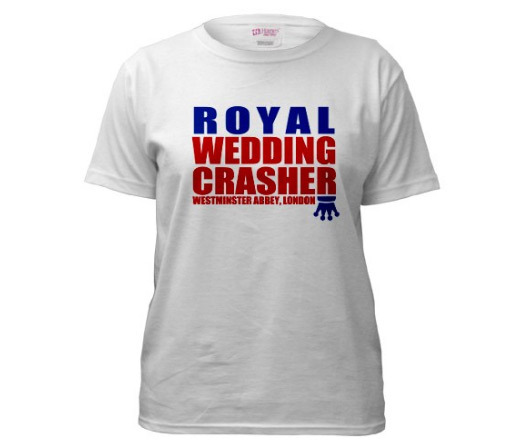 With the total cost of the Royal Wedding in the tens of millions, it's not only the wedding of the century to watch, it's the wedding of the century to crash.  This Royal Wedding t-shirt lets everyone know that you didn't watch William and Kate's Royal Wedding from your couch with tea and crumpets; it reveals that you put on your best threads and headed to the Abbey.  After all, who could resist the smorgasbord of food, drinks and eligible bachelors and bachelorettes present for the monumental occasion?  Hopefully, your fake identity worked on Prince Charles and the Queen; we know the Royal Family can be a bit ruthless towards outsiders.  At least this William and Kate Royal Wedding shirt pays homage to the colors found in the Union Jack.
The perfect Royal Wedding tee for both guys and girls, this Royal Wedding Crasher t-shirt is also fitting for lasses who grew up dreaming of becoming a princess, and who would have given anything to be at Westminster Abbey to watch their fantasy play out for Prince William's fiancée Kate Middleton.
Tell your friends about how you went on to crash the reception at Buckingham Palace, where you witnessed Prince Harry give a drunken toast, in addition to the married couple's first dance. Use this William and Kate t-shirt to have fun convincing them that you also tasted the two delicious Royal Wedding cakes, one a multi-tiered fruit cake and the other, the groom's cake, an unbaked chocolate biscuit creation from a secret royal family recipe.  In any case, as this Royal Wedding t-shirt proves, you didn't need a fancy invitation to be present at the biggest wedding ever.  As a crasher, all you have to do is fit in, as evidenced by this William and Kate royal-tee.
Artist: Wayward Tees Category: Politics