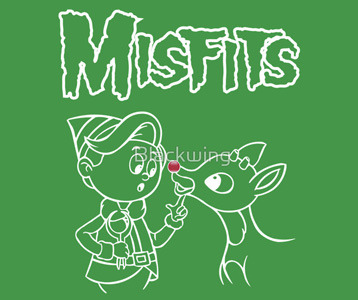 Rudolph the red nosed reindeer had a very shiny nose and if you ever saw him, you would even say it glows…and geez did he let it glow.  Christmas is in the air whether we are ready for it or not.  I went to Target today and saw aisles lined with twinkle lights, Christmas cards and trusty extension cords.  While I tried to resist falling under the holiday spell before we've even completed Halloween, it didn't work and I was soon humming Christmas carols under my breath.  If this tune would be at the top of your list, then this Rudolph t-shirt will probably make your Christmas list.
This Rudolph tee celebrates the holiday movie staple from 1964 that every family member can enjoy.  After being taunted by fellow reindeer, he decides to leave with his elf friend Hermey (who is also an outcast because he wants to be a dentist rather than a toymaker) to find a place where they are accepted.  They soon find the land of misfit toys, a place where discarded toys have gone to live without ridicule.  Rudolph seeks help for his new friends from Santa but finds him in a jam.  Rudolph has a bright idea though and leads Santa through the fog to successfully deliver gifts to children around the world.  This heroic tale shows that not only did he overcome, he ended up being the shining star and so can you.  Get your Rudolph t-shirt and let your light shine.
You know Dasher and Dancer and Prancer and Vixen, Comet and Cupid and Donner and Blitzen.  But do you recall the most famous reindeer of all?  This Rudolph the Red Nosed Reindeer shirt will remind everyone of Santa's most trusted helper who will surely go down in history.
Sold by: RedBubble Category: Holiday