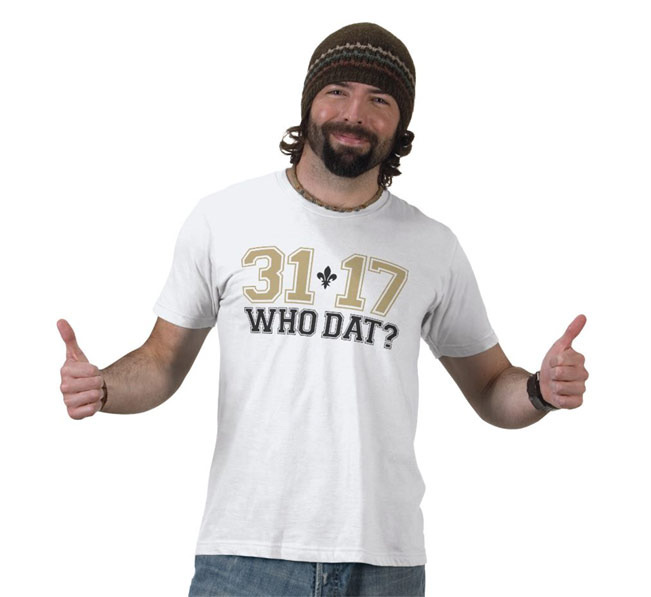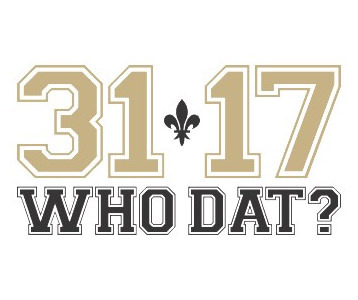 As the New Orleans Saints and the Indianapolis Colts prepared for battle last week, a different kind of battle had been underway behind the scenes between the NFL and t-shirt designers from Louisiana and around the country.  The National Football League had begun sending cease-and-desist letters to designers, demanding that they stop selling tees featuring the phrase "Who Dat".  The NFL cited trademark infringement in an attempt to declare ownership of the phrase, which is part of the popular New Orleans Saints cheer, "Who dat say dey gonna beat dem Saints?"  The dispute over New Orleans Saints Who Dat t-shirts disrupted business for numerous local merchants and threatened to halt sales for designers on national sites like CafePress and Zazzle.
There's no mystery behind why the NFL was suddenly trying to claim ownership of the phrase that Saints fans began to incorporate into their cheers in the early 1980s.  Exclusive rights would mean that the National Football League would be the sole profiteer on products like Who Dat tees that featured the phrase, which would be especially significant if New Orleans was victorious in the Super Bowl.  Fortunately for designers and local shop owners, Louisiana Attorney General Buddy Caldwell announced several days before the Super Bowl that the NFL "conceded and they've said they have no intention of claiming the fleur-de-lis, which would be ridiculous, or the 'Who Dat', which would be equally ridiculous."  The fleur-de-lis symbol is a traditional symbol of New Orleans and is also a part of the Saint's logo.
The origins of the chant "Who Dat?" date back to 19th century poet Paul Laurence Dunbar, who included it in his poem "When Malindy Sings" and later in his lyrics to the song "Who Dat Say Chicken in dis Crowd."  Before being used by jazz and big band performers in the 1920s and 30s, the chant could be heard in African-American minstrel shows and vaudeville acts of the late 1800s and early 1900s.  Celebrate the Saints, the history and the chant with this New Orleans Saints Who Dat t-shirt that creatively captures the excitement surrounding the Super Bowl champions and their popular cheer.
Sold by: Zazzle Category: Gamer