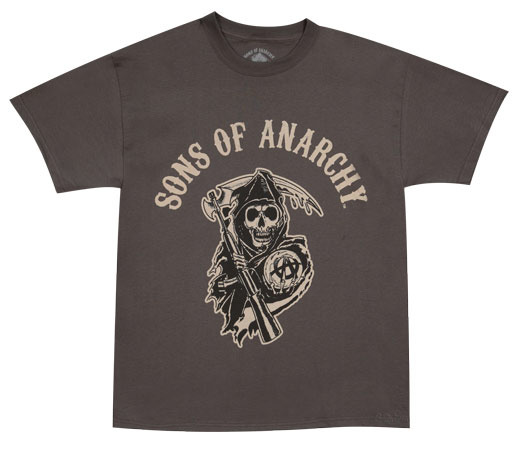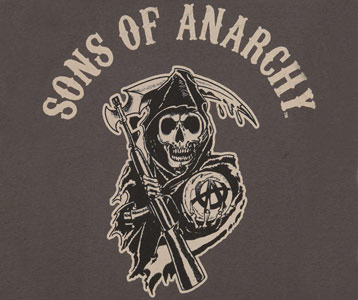 Airing on the FX network, The Sons of Anarchy TV show focuses on the outlaw motorcycle club SAMCRO, which operates in the fictional town of Charming located in Northern California.  The series stars Ron Perlman (Hellboy) as Clarence 'Clay' Morrow, Katey Sagal as his wife Gemma Teller Morrow and Charlie Hunnan (Undeclared) as Clay's stepson Jackson 'Jax' Teller.  The show is loosely based on Shakespeare's Hamlet, with Clay being modeled after King Claudius, Gemma as a sort of Gertrude, and Jax as Prince Hamlet himself, whose moral questioning of the SAMCRO culture following the birth of his son is reflective of Hamlet's melancholy over the death of the king.  Jax even communicates with his dead birthfather through his father's journal, similar to Hamlet communicating directly with the ghost of his dead father.  If this FX TV series revs your engines, then get this Sons of Anarchy t-shirt that displays the SAMCRO motorcycle club logo.
The series gets underway with the robbery and torching of one of SAMCRO's gun-assembly warehouses by a rival gang, the Mayans.  At the same time, Jax's estranged and pregnant wife Wendy (Drea de Matteo) collapses as a result of her addiction to meth, forcing her to undergo an emergency C-section.  The baby is delivered ten weeks premature and as Jax observes the newborn's innocence, he begins to question the Sons of Anarchy motorcycle club's deviation from its roots into less legal activities, namely gun-smuggling.  The birth of this internal conflict in Jax lays the groundwork for his character and much of the TV series represented by this tee.  The good in Jax can also be seen in his protection of Tara (Maggie Siff), a doctor at St. Thomas Hospital who is being stalked by her former boyfriend, ATF agent Josh Kohn.
If you're looking for Sons of Anarchy clothing, this tee is the perfect start to your collection of SAMCRO merchandise.  This motorcycle club Sons of Anarchy t-shirt will truly make you feel like part of television's most dysfunctional biker gang.
Sold by: StylinOnline Category: TV