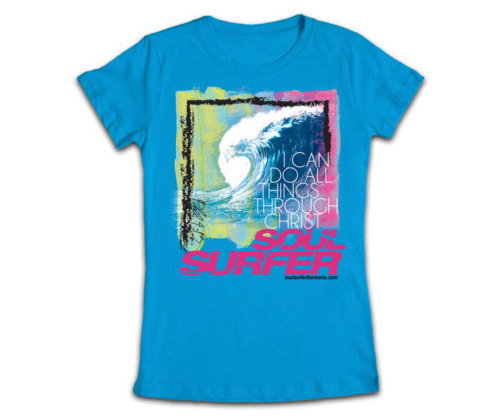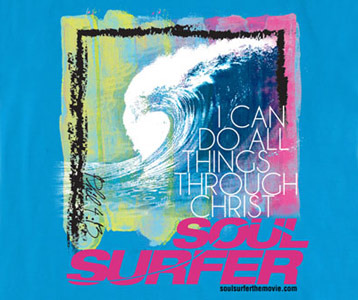 Browse all Soul Surfer Tees, Tanks and Hats
When I had the opportunity to see an advanced screening of the Soul Surfer movie last week, I jumped at the chance.  Surfing movies are often some of my favorites because of the awesome scenery and action, but this story in particular has been on my radar for years.  It is based on the life of surfer Bethany Hamilton.  Sound familiar?  If she is an inspiration to you as well, then snag yourself a Soul Surfer t-shirt before they are soul-d out!
Bethany Hamilton is a professional surfer known for losing her arm on Halloween day 2003 in a shark attack.  The then 13-year-old was surfing with her best friend Alana Blanchard, as well as Alana's dad and brother, at Tunnels Beach on Kauai when a tiger shark took her arm in a flash.  After barely surviving the incident, her future was in question.  Many people believed that this promising young surf star's chances of making it big had come to an end, but she turned to her family, friends and faith to help her continue to reach her dream.  It worked and now she is one of the most celebrated, inspirational people around, as evidenced by this Soul Surfer Bethany Hamilton shirt.  Aside from surfing, she spends much of her time doing charity work and spreading the word of God.  This Soul Surfer shirt is made by Kerusso, a company that specializes in faith-based apparel.  Bethany is sponsored by Rip Curl, a surfing company who has sponsored her before, during and after her tribulations.  Get in on the spirit of the movie and her story with this Soul Surfer tee today.
For a look at the Real Story vs. the Soul Surfer Movie, read the informative article over at ChasingtheFrog.com.
Sold by: Jack's Surfboards Category: Movies