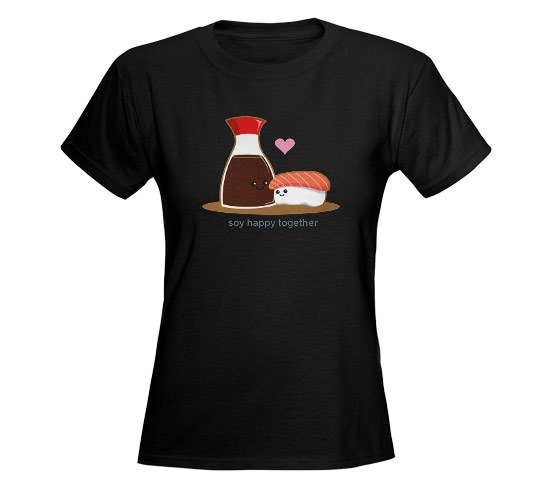 Peanut butter and jelly. Bonnie and Clyde. Rum and Coke. What do these pairings have in common? They are all perfect matches! This sushi t-shirt features another match made in heaven that is perfect for raw fish and rice eating enthusiasts. The adorable soy sauce and salmon sushi design is complemented by the phrase "soy happy together", inspired by The Turtles hit song from 1967. This kawaii style sushi tee represents one of the biggest food trends taking hold in our country today.
Sushi is a mound of formed rice topped with slices of raw fish like tuna, salmon, yellowtail, mackerel and eel. The bite sized pieces are typically eaten with chopsticks and dipped in soy sauce. Some more daring fans top it with a spicy green paste called wasabi, but we would never recommend it. Celebrities, fitness experts and dieticians have been touting the otherwise unappetizing entrée as a low calorie wonder food. The endorsements from these folks have forced many people to eat it frequently enough that they have acquired a taste for it and now truly enjoy the delicacy.
Hopefully, you have found your perfect match like these tasty pals and you are "soy happy together". If that's the case, then get this sushi t-shirt and you will be singing in no time. Just like The Turtles said, "Imagine me and you, I do. I think about you day and night, it's only right, to think about the girl you love and hold her tight, so happy together."
Sold by: CafePress Artist: Kimchi Kawaii Category: Food