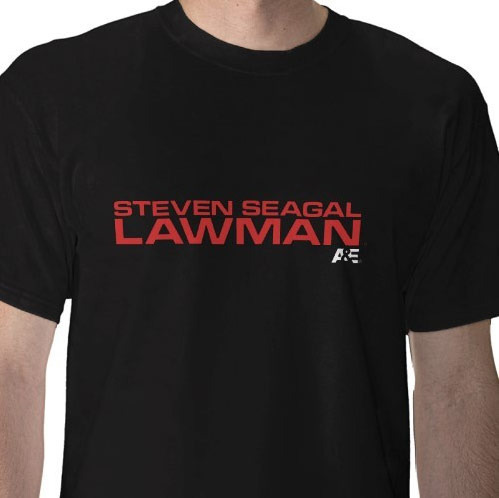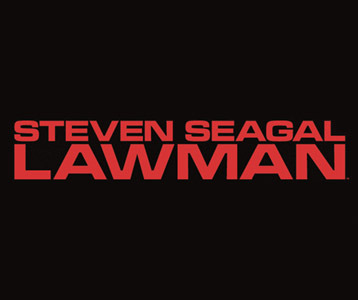 The Steven Seagal Lawman TV show is a reality series that airs on the A&E Television Network.  The series follows Deputy Police Chief Seagal (a somewhat ceremonial title, though he does have full police and arrest powers) as he rides with fellow police officers in the post Katrina environment of Jefferson Parish, Louisiana.  The debut episode set an A&E network record, drawing in 3.4 million viewers.  If you like to ride along each week to get a taste of the action, this Steven Seagal Lawman t-shirt is the perfect outfit to do it in.  This tee can also be worn as part of a Lawman Steven Seagal costume.  Just add a fake badge and gun.  Ponytail optional.
Martial artist and action hero Steven Seagal began acting in 1987 following a career as an aikido instructor in Japan.  After returning to the states, he continued to teach aikido and one of his students, Hollywood agent Michael Ovitz, believed that he could make Seagal a star.  In his first movie, 1988's Above the Law, Steven found himself starring opposite a young Sharon Stone as he played the role of no-nonsense vice cop Nico Toscani.  His status as an action hero was solidified in the 90s, with the release of a string of hits that included Hard to Kill (1990), Marked for Death (1990) and Out for Justice (1991).  In 1992, he released his most successful film to date, Under Seige, in which he starred as a former Navy Seal working as a cook on a U.S. Navy battleship that gets taken over by a band of mercenaries.  Whether you have followed his film career or are just getting to know him on TV, this Steven Seagal Lawman shirt is a great way to let wrongdoers know that no one is above the law.
Wear the t-shirt as part of a Steven Seagal Lawman costume or click through to discover other products like Steven Seagal bobbleheads, Lawman sweatshirts, hats, mugs and TV show DVDs.
Sold by: eBay Category: TV