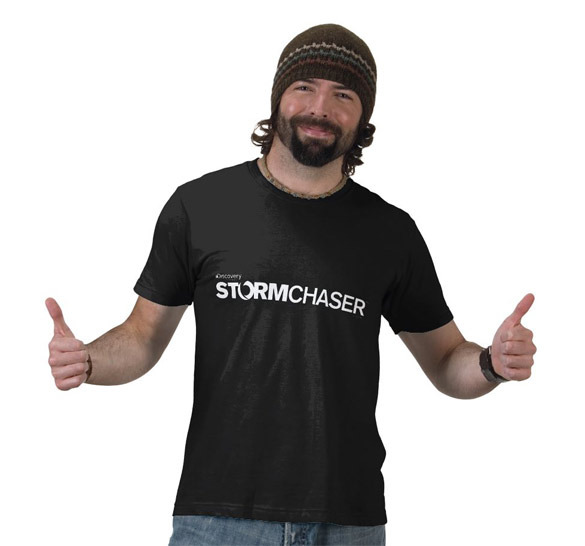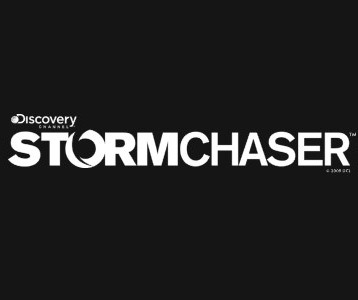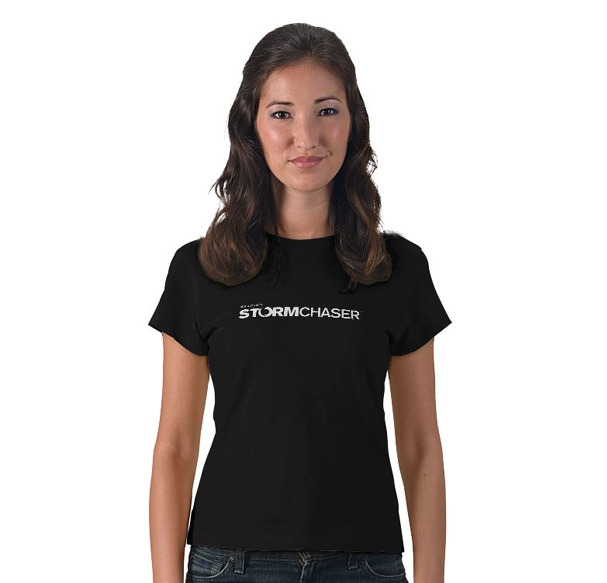 Imagine driving into the heart of an unforgiving tornado.  The forces of nature are roaring ferociously all around you, and you can't be sure if you are adequately protected from the beast in front of your camera's lens.  That's what the stars of the Discovery Channel's documentary TV show Storm Chasers experience each week, led by documentary IMAX filmmaker Sean Casey and renowned atmospheric scientist Joshua Wurman.  If you think you would love the adrenaline rush of chasing storms, get one of these Discovery Storm Chasers t-shirts that are available in a variety of styles, including the stylish dark Storm Chaser shirt shown here.
The idea to post a Storm Chasers tee came about not because of a blinding, torrential thunderstorm, although I did recently get caught in one, but instead because of an article that I read about tornado tours.  Yes, you heard that right.  For around $3,000 you can reserve a seat to ride with an armored tornado chasing vehicle, similar to the Storm Chasers Tornado Intercept Vehicle (TIV) seen on the Discovery Channel TV show.  If you're wondering how you could possibly see a coveted funnel cloud on a quick tour, it's because this is no 3-hour tour Gilligan.  On the storm chasing tours web site I looked at, the tornado tours were available in either six or ten day vacation packages.
Even if you decide against embarking on the whirlwind adventure, this Storm Chaser t-shirt is perfect for fans of the Discovery Channel Storm Chasers TV show.  Put this tee on the next time a thunderstorm blows through your neighborhood.  Just be careful not to embark on any hazardous storm chases of your own.  After all, your Prius is not a Tornado Intercept Vehicle.
Sold by: Zazzle Category: TV