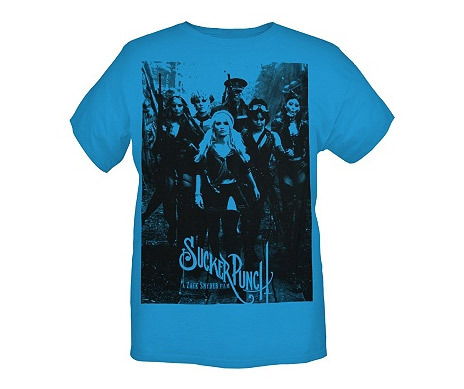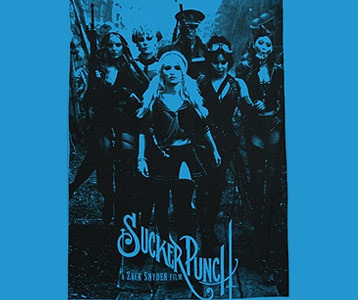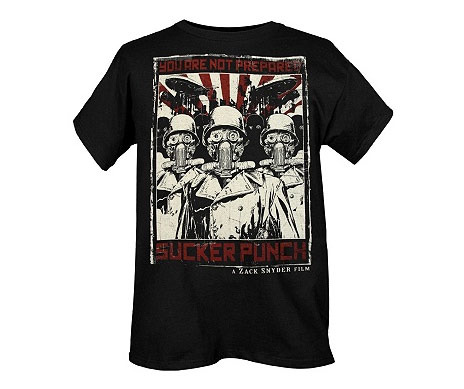 Browse more Sucker Punch Movie tees
Are there any movies that you just can't wait to see?  I've been waiting for director Zack Snyder's movie Sucker Punch to hit theatres since the cast was busy discussing it at Comic-Con last year and now it is so close I can practically hear the gunfire.   This Sucker Punch t-shirt is for fans of action packed, fantasy adventure films like me!  There are a variety of movie shirts to choose from, including designs featuring the girls, the mysterious pink bunny mech suit and the movie poster art.
Baby Doll (Emily Browning) has been locked away in a mental institution and the prospects of getting out are looking pretty slim, so she devises a new way out…through her mind.  Along with her four new asylum friends featured on this Sucker Punch tee, Sweet Pea (Abbie Cornish), Rocket (Jena Malone), Blondie (Vanessa Hudgens) and Amber (Jamie Chung), she is able to escape the harsh realities of life through her imagination, which often crosses between fantasy and reality.  Here they battle a variety of threats in order to collect five items they need to escape the asylum walls and villains like Madam Gorski (Carla Gugino), Blue (Oscar Isaac) and the High Roller (Jon Hamm) that cage them.  Will they succeed?  That is the big question…well, along with what is that big pink bunny mech suit we see in the movie trailers?  Only time will tell!  Snag your very own Sucker Punch shirt in the meantime.  These lovely leading ladies will be out to get you if you don't.  There is nothing that they can't do.
If you enjoy Zack Snyder's visually stunning, action packed films (Watchmen, 300), then this Sucker Punch movie t-shirt is the perfect tribute to his latest vision.  Embrace the dangerous fantasy world of the movie and join Baby Doll, Sweet Pea, Rocket, Blondie and Amber as they battle to break free of the walls that confine them.
Category: Movies