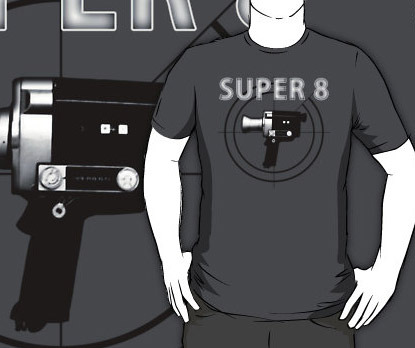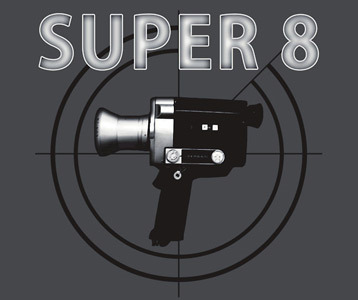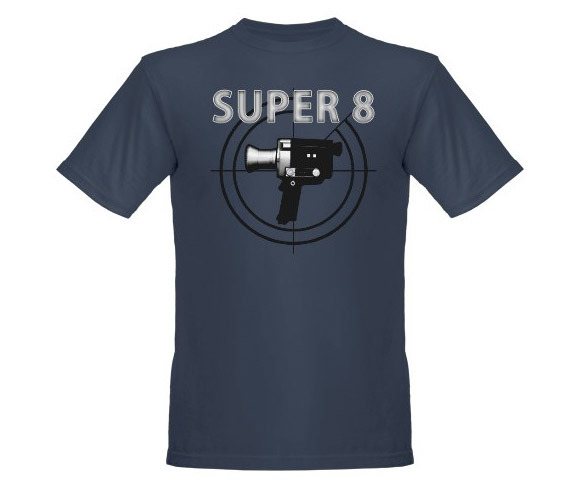 Produced by Steven Spielberg and directed by J.J. Abrams, Super 8 is a science fiction film that was scheduled for release in the summer of 2011.  Early on, fans of the director speculated that the film would be a sequel to his 2008 movie Cloverfield.  However, despite his new movie containing an inhuman creature, it was quickly confirmed by Abrams that this would not be the case.  The altogether fresh story is the result of a collaboration between J.J. Abrams and Steven Spieldberg.  If you're looking for a way to tap into the thrilling sci-fi mystery created by these two filmmakers, this Super 8 Movie t-shirt effectively captures the film's nostalgic tone and creative sensibility.
Set in 1979, the story begins with a group of kids filming a Super 8 movie at an old train station.  The kids, including Joe Lamb (Joel Courtney), Cary (Ryan Lee), Preston (Zach Mills), Charles (Riley Griffiths) and Alice (Elle Fanning), witness a pick-up truck intentionally collide head on with a passing train, causing it to derail in a horrific crash.  The gang uses their Super 8 camera, pictured here on this t-shirt, to capture the subsequent events surrounding the crash.  This includes an inhuman monster, possibly an alien, that escaped from one of the derailed train cars.  Before the crash, the creature was being transported from Area 51 to a secure military facility in Ohio.  A recently widowed town Sherriff, Jackson Lamb (Kyle Chandler), who is also Joe's father, begins an investigation into the crash.  His suspicions deepen when the military arrives and local pets start to turn up missing.
Recall the excitement of the film with this tee that features a vintage 8mm camera on the front in addition to the title.  The design is available on numerous clothing items, offering a variety of clothing color and style choices.  The Super 8 movie t-shirt is ideal for sci-fi buffs, J.J. Abrams fans, aspiring filmmakers and anyone who enjoyed the hit film.
Artist: Wayward Tees Category: Movies