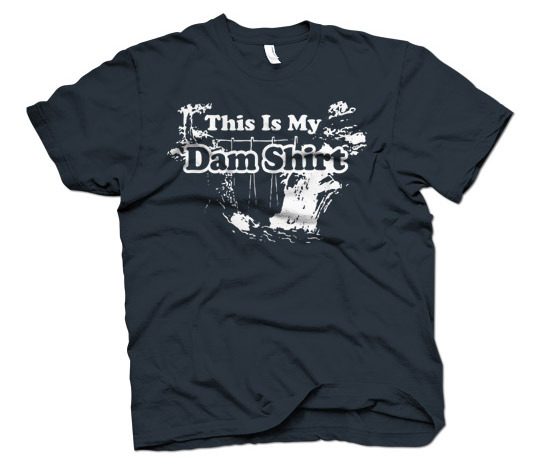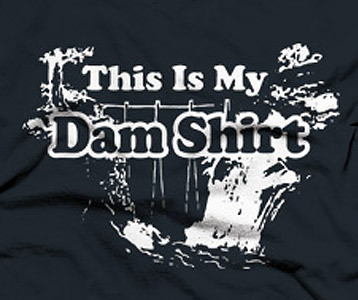 When the weather has me down I think about past vacations to warm destinations.  Currently, I'm daydreaming about Las Vegas and all the experiences unique to the area.  I last visited Sin City in October.  The incredible lights illuminating the Strip, elaborate shows, breathtaking architecture and fast pace of the town keep excitement lurking at every turn.  Although these things are enough to keep me entertained every minute of my stay, it's easy to be drawn into the lights, sounds and thrills of the slot machines and table games.  However, gambling can put a dent in anyone's pocket in a heartbeat, so during my last visit I also opted to tour the Hoover Dam.  Just like in the movie Vegas Vacation
(starring Chevy Chase and Beverly D'Angelo), the Dam tour is full of dam one liners.  I am posting the This is My Dam t-shirt for anyone who is dreaming of a vacation, finds humor in the tee, or just enjoyed their own dam tour.
The Hoover Dam was completed in 1936 after only four and a half years of construction.  It is 1,244 feet wide by 726.4 feet high and is located along the Colorado River.  Two states and two time zones are encompassed on the dam, with Nevada (Pacific Time Zone) on one end of the dam and Arizona (Mountain Time Zone) on the other.  Over 4 billion kilowatt hours of power are produced there each year for use in Nevada, Arizona and California.
Now that you've had a dam lesson, snag the This is My Dam t-shirt and share some of your dam knowledge.
Artist: Crazy Dog T-shirts Category: Retro