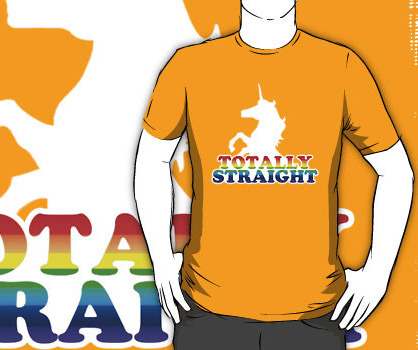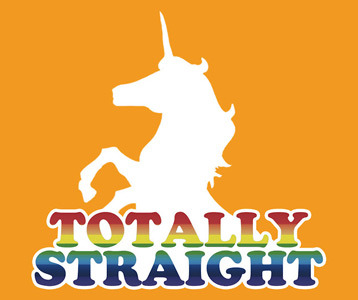 I am always looking for Feistees suggestions, so when my husband and I went out to dinner with my friend and her husband, I decided to take advantage of it.  We asked them what came to their minds with regard to remarkable tees that they would like to be able to buy?  They loved the Totally Straight Unicorn t-shirt Johnny Knoxville wore in the movie Jackass 3D.  Why hadn't I thought of that?
When I returned home I took another look at the design they were referring to and went on the hunt.  I looked for pictures of Knoxville in the movie and I saw that he was wearing an orange shirt with a white unicorn behind the words "totally straight", written in rainbow script just as they had described it.  I found this likeness that I hope suits your needs.  It is available in a variety of colors, including orange like the one he wore in the movie Jackass 3D.
As for the movie, it is the third film made as a spinoff of the hit Jackass TV show featuring daring stunts and practical jokes.  All of the usual characters appear in the movie, like Johnny Knoxville, Steve-O, Bam Margera, Ryan Dunn and Wee Man.  If this Johnny Knoxville Totally Straight Unicorn shirt from Jackass 3D caught your attention despite all the crazy stunts going on, then get your hands on one today.  You'll flip for this tee!  Just be careful not to hurt yourself.
Sold by: Skreened Categories: Costume Ts, , Movies, Seen On Screen